BJP leader made to eat his words after his candid remarks on beef ban
BJP, was left red faced after its functionary opposed beef ban
Vaman Acharya, an MBBS graduate, was made the party's spokesperson recently
During the BJP rule, he had been appointed as the chairperson of the Karnataka Pollution Control Board
Acharya's sentiments is in complete contrast with the party's beliefs and ideologies, says BJP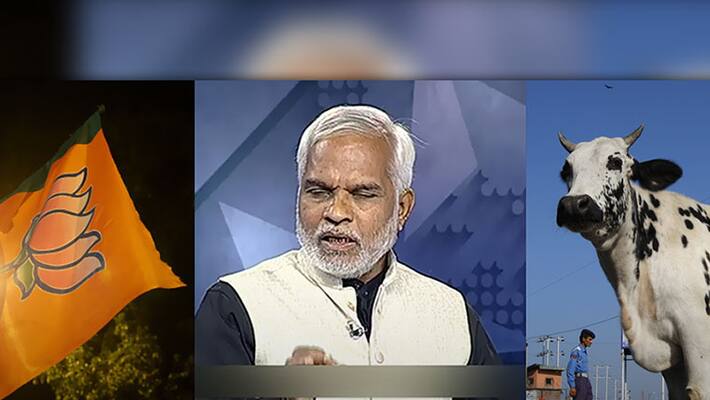 The BJP has taken to task its newly appointed spokesperson Vaman Acharya for his recent views on the Centre's ban on the sale of cattle for slaughter. Acharya was made to retract his statements on Monday.
Participating in a panel discussion on Suvarna News on May 28, Acharya, opposing the ban, had said that people from all communities, including the Brahmin community, consumed beef. He had said that before India became an agrarian nation, beef had been a staple diet. Even today, several people, including indigenous tribes in the North Eastern States consumed beef as a staple, he had said.  
Acharya had also said that as chairman of the Karnataka Pollution Control Board, he had given permission for the setting up of 16 abattoirs in the State.  Lastly, he had said that he didn't subscribe to the religious sentimentality attached to the cattle.
On Monday however, Acharya was made to eat his words.  "As a bjp spokesperson, I am retracting my statement. I remain a loyal worker of the party. My views are independent of the party stand. My remarks during the panel discussion were scientific in nature. But I want to clarify that I completely subscribe to the party's stand on the matter," said a clearly  disconcerted Acharya.
His colleague, party spokesperson Suresh Kumar too took to social media to clarify the matter. "The party has nothing to do with Acharya's statements on the Centre's circular on the matter. His statements are completely opposite to the party's beliefs and ideologies.  Acharya has however retracted his statements, and given his clarification on the matter," reads Kumar's post on Facebook.
The NDA led Centre on May 23 notified the Prevention of Cruelty to Animals (Regulation of Livestock Market) Rules, 2017, (which bans the sale of cattle for slaughter or for consumption), sparking off a controversy.
Last Updated Mar 31, 2018, 7:00 PM IST