Auto, cab drivers request BBMP to allow Indira Canteen to serve food till 3.30 pm
Cab and auto drivers have requested the BBMP Commissioner to extend the lunch time at Indira Canteen till 3.30 pm
Since the food is served from 12, within one-and-half-hour the food will get over and many return hungry
Hence, the quantity must be increased and time extended they appealed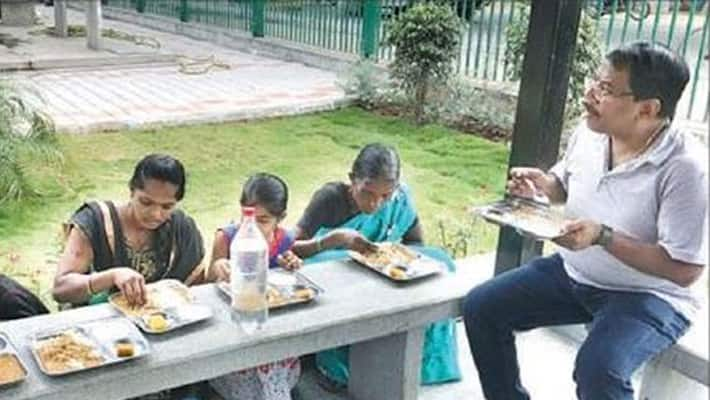 Cab and auto drivers have requested the BBMP Commissioner to extend the lunch time at Indira Canteen till 3.30 pm. On Sunday, BBMP Commissioner Manjunath Prasad visited the Radhakrishna Temple Ward Indira Canteen and inspected the food quality, cleanliness and quantity. He also bought a plate of lunch by paying Rs 10 and ate it along with the public, interacting with them about the canteen, reports Kannada Prabha.
Several auto and cab drivers requested him to extend the time till 3.30 pm. Since the food is served from 12, within one-and-half-hour, the food will get over. Those who come later do not get any food. A large number of people go without food. Hence, the quantity must be increased and time extended they appealed. The Commissioner responded to them positively and said he would consider their request.
The Commissioner gave a statement that public can verify the quantity of food by weighing it at the canteen available.  At all Indira Canteens food rates and quantity are clearly published. Anyone who doubts can easily check it at the weighing machine available at all canteens, he said.
Last Updated Mar 31, 2018, 6:31 PM IST