A glimpse of Hanuman Jayanti celebrations across Bengaluru
Hanuman temples across City witnessed huge footfall on Hanuman Jayanthi today. Famous temples in the city held special poojas, abhishekham and distributed prasad. At the Gali Anjaneya temple, which is more than 600 years old, the authorities decorated the statue with flowers, partook in abhishekham and performed maha mangalarathi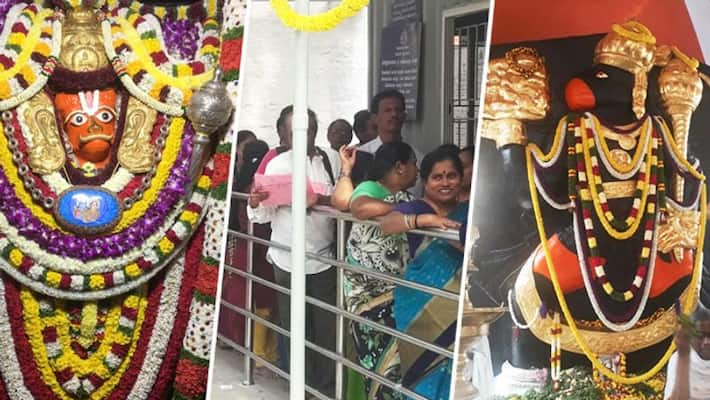 The Hanuman temples across Bengaluru witnessed a huge rush to receive darshan and blessings of Lord Hanuman on Hanuman Jayanti. According to temple authorities at Gali Anjaneya, which is over 600 years old, Lord Hanuman can remove negativity, misery, and obstacles, and grant divine protection to lead a life of wealth, health, happiness, and auspiciousness. 
Srinivas Ramanujam, chief priest of Gali Anjaneya temple," The temple opened at 4:30am. We performed pavamana homa, partook in abhishekham, decorated the statue with flowers and performed mahamangalarathi. The devotees were also given prasadam. Chanting powerful Hanuman Chalisa (hymn in praise of Hanuman) on his birthday can help the devotee overcome tough situation." 
In the hundred-year-old Dodda Banaswadi Anjaneya temple, the devotees gathered as early as 6am for darshan. Similarly, in Mahalakshmipuram, butter abhishekham was prepared for the Hanuman statue. At Prasanna Anjaneya temple at Mahalakshmipuram, the abhishekham with butter was poured over to 22-foot hanuman statue was the attraction. The temple is said to be over 100 years old and the statue is made out of saligrama a sacred stone.
Last Updated Dec 20, 2018, 6:17 PM IST