5 arrested for stealing heritage Alexandar Gem
Malleswaram Police arrested 5 persons for stealing rare heritage gem, Alexander Gem
Two from the gang were earlier arrested for other crime, police found and seized the rare gem valued at Rs 15 lakh from the culprits
The police are contacting the archaeology department to evaluate the gem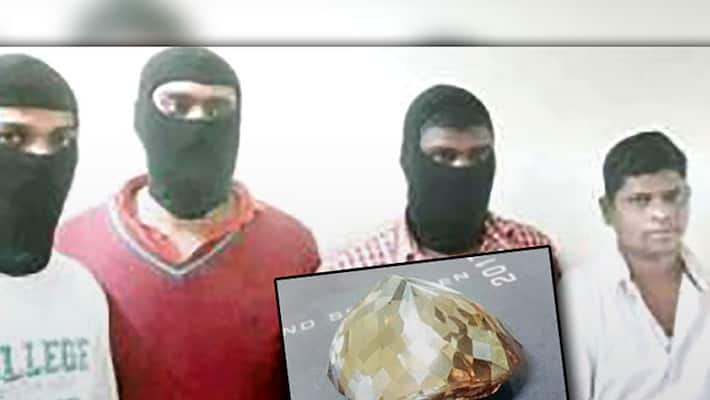 Malleswaram police arrested five persons for throwing chilli powder on to a person and stealing his rare heritage gem called Alexander Gem, reports Kannada Prabha.
The arrested are Bhaskar (26) of Magadi Road, Ranjith Shetty (25), Nagarj (40), Murugesh (38) of Basaveshwar Nagar and Ullas (25) of Prakash Nagar. The police seized the rare gem valued at Rs 15 lakh from the culprits.
One Jayateertha hailing from Koppal, residing in the City, wanted to sell a rare Alexandar Gem, an heirloom piece, as he was in dire need of funds. He had told his friend Shashikanth about it and had asked his help to sell it. Ranjith came to know of it and met Shashikanth a couple of times. Finally, he said he wants to buy it but made a plan to steal it. On Nov 11, he had told Shashikanth to bring it. At around 2.30 pm Jayateertha and Shashikanth came to Malleswaram along with the gem.
Ranjith had asked his associates to come to the spot. In the pretext of testing the gem they threw chilli powder on the faces of Shashikanth and Jayatreertha, snatched the gem and ran away. Jayateertha lodge a police complaint.
Bhaskar and Nagarj were earlier arrested by Subrahmanyapura police in connection with note exchange during demonitisation. Working on clue, the Malleswaram police managed to arrest all the 5. The police are contacting the archaeology department to evaluate the gem.
Last Updated Mar 31, 2018, 7:06 PM IST