Unprecedented outrage over Cauvery water, 1 lakh letters written in blood to be sent to PM Modi
In a dramatic gesture, the Karnataka Rakshana Vedhike (Narayana Gowda Bana) has announced its intent to send a staggering one lakh blood-written letters to Prime Minister Narendra Modi in a bid to draw the central government's attention to the pressing issue of Cauvery river water distribution.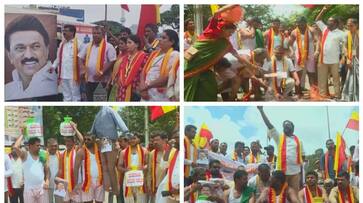 This striking gesture is accompanied by a call for a "Delhi Chalo" protest scheduled for October 10 at Jantar Mantar Maidan in the heart of the nation's capital. Karave State President TA Narayana Gowda revealed this unconventional strategy to reporters, emphasizing the need to change the nature of the struggle in order to compel the central government to address Karnataka's concerns regarding the Cauvery issue, the Mahadai Irrigation Project, and the Belgaum border dispute.
 Karnataka bandh: Sandalwood Actors and artists join hands in support of Cauvery struggle
Union Minister Prahlad Joshi has been urged to facilitate Prime Minister Modi's visit during the "Delhi Chalo" protest, with hopes that he will gain firsthand insight into Karnataka's challenges, including the plight of farmers and other statewide issues.
Narayana Gowda expressed disappointment in the state's parliamentarians, citing a perceived lack of effort in bringing the central government's attention to Karnataka's problems. He contrasted this with the proactive approach of Tamil Nadu's MPs when their state faces difficulties. 
Narayana Gowda also reminisced about late leaders like Ambarish and Anantakumar, who displayed a willingness to set aside partisanship for the greater good of the state. He lamented the absence of such individuals in the current political landscape, underscoring the challenge of exerting pressure on the central government in times of injustice.
As the blood-written letters and the impending "Delhi Chalo" protest capture national attention, the forum hopes to push for a resolution to Karnataka's long-standing concerns.
Last Updated Sep 29, 2023, 2:19 PM IST