Fashion designer Prasad Bidapa's son Adam booked for allegedly creating ruckus on road after getting drunk
Adam Bidapa, son of designer Prasad Bidapa, caused chaos on Yelahanka Road due to a drunken collision with another car. His unruly behaviour led to police intervention, and he was found heavily intoxicated. This incident is not his first; he has a history of legal issues, including a previous arrest for a similar incident and a complaint for sending obscene messages to an actress.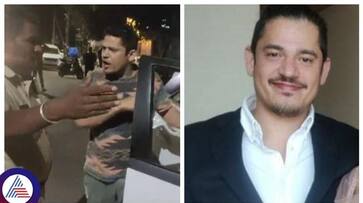 Adam Bidapa, the son of renowned fashion designer Prasad Bidapa, has found himself in legal trouble once again. In an incident that unfolded on Yelahanka Road late last night, the young man's drunken escapade led to a chaotic scene that required the intervention of both law enforcement and traffic authorities.
Adam Bidapa's reckless actions began when he was driving under the influence of alcohol, was driving at high speed and collided with a car driven by a man named Rahul. Following the collision, Adam agitated, overtook Rahul's car and proceeded to block the road, creating a disturbance. Despite the police's intervention, they struggled to bring him under control. Rahul was left with no other option but to dial the emergency number 112 to report the incident.

Who is Aviva Bidapa? Know who is Abishek Ambareesh's wife; Yash, Kiccha Sudeep attend grand wedding
Bidapa's confrontational behaviour extended to the police officers who arrived on the scene. In response to his unruly conduct, Yelahanka traffic police were summoned to the location. Upon examination, it was established that Adam Bidapa was heavily intoxicated. The Yelahanka traffic police impounded his vehicle, and Yelahanka Newtown Police took him into custody.

Style statement with Prasad Bidapa
A case has been registered at Yelahanka Newtown Police Station. The evidence of Adam's inebriation was apparent at the time of his arrest. This incident is not an isolated one in Adam Bidapa's history; he was previously arrested in a similar drunken incident. 
Moreover, he faced legal repercussions after a Sandalwood actress filed a complaint against him for sending obscene messages in February 2022. It's worth noting that Adam Bidapa is the brother of Aviva Bidapa, the wife of actor Abishek Ambareesh.
Last Updated Oct 27, 2023, 10:33 AM IST