Bengaluru's iconic double-decker buses to make a comeback by year-end?
Bengaluru's iconic double-decker buses are set to return after 26 years. The BMTC plans to reintroduce them with 10 buses, some electric, running primarily on outer ring roads. The project received government approval and a budget of 24 crores. Each closed-ceiling bus will cost around 2.2 crores and accommodate 90 passengers.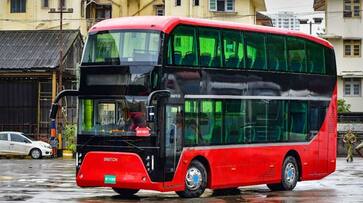 The iconic double-decker buses that once graced Bengaluru's streets are making a comeback, with plans to roll out by the end of this year. The Bangalore Metropolitan Transport Corporation (BMTC) is getting ready to begin the process of finding a contractor to supply these buses through a tender, and this process will start within the next 15 days.
After a long gap of 26 years, BMTC aims to reintroduce double-decker bus services in Bengaluru. These buses were a familiar sight during the 1970s and 1980s but were discontinued in 1997 due to reasons like roads not being suitable, overhead wires, and lack of proper maintenance.

Jailer star Rajinikanth in Bengaluru visits Raghavendra temple and BMTC bus depot (Photos and videos)
Discussions about bringing back these iconic buses have been ongoing for a few years, and now they're turning into reality as BMTC is preparing to find contractors to get 10 double-decker buses in the first phase.
An attempt was made by the previous government to get 5 double-decker buses in January. However, only one company showed interest, and the deal didn't go through. Now, BMTC is determined to get 10 of these buses and is all set to call for tenders. A certain number of these double-decker buses are going to be electric, according to the reports.
The plan to buy double-decker buses was approved in a cabinet meeting in June. The government has also allotted 24 crores for the project. Transport Minister Ramalingareddy shared that they are taking steps to get these buses and hope to have them running on the roads by the end of this year.
Presently, Bengaluru's inner roads aren't suitable for double-decker buses due to their gigantic size. So, BMTC has done a study to find routes where these buses can fit. Initially, these buses will run primarily on the outer ring road. BMTC officials are also looking for other routes where these buses can run, provided the other roads are suitable for these kinds of buses, stated the BMTC officials. 

Bengaluru: BMTC inducts at least 190 environment-friendly buses
The Iconic double-decker buses used to travel through areas like Gandhibazar, Shivajinagar, Srinagar, and K.R. Market to Majestic. The return of these buses is also a good sign to the environment BMTC is planning to get electric double-decker buses and semi-low-floor buses. 
The current double-decker buses are likely to have closed ceilings. Each of these buses is estimated to cost around 2.2 crores, and they will have seating for about 90 passengers.
Last Updated Aug 30, 2023, 12:28 PM IST