Would you recommend Gurmeet Ram Rahim for a Padma Award? Over 4,200 people have
According to the list of recommendations or nominations for Padma Awards 2017, the Union home ministry received 18,768 applications
More than 4,200 people recommended 'Saint Dr Gurmeet Ram Rahim Singh Ji Insan' for a Padma award in 2017
Gurmeet, who was sentenced to 20 years in jail for raping two followers this week, recommended himself five times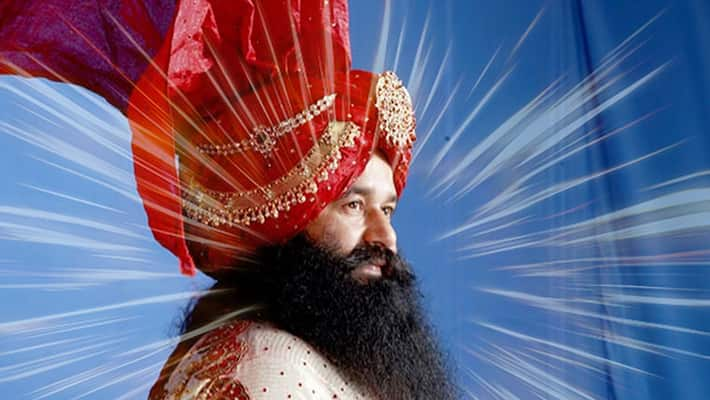 More than 4,200 people recommended 'Saint Dr Gurmeet Ram Rahim Singh Ji Insan' for a Padma award in 2017, while the self-styled godman and now rape convict proposed his own name for the honour five times.
According to the list of recommendations or nominations for Padma Awards 2017, the Union home ministry received 18,768 applications.
The highest 4,208 recommendations, including two from 'Saintgorge William Sonet' and 'India Saintgorge', both from Hissar in Haryana, were received for conferring any one of the three Padma awards on the controversial Dera Sacha Sauda chief, reveal documents accessed by PTI.
All recommendations were marked in the name of 'Saint Dr Gurmeet Ram Rahim Singh Ji Insan', also known as 'rockstar baba' and 'guru of bling', and almost all had come from Sirsa in Haryana, the headquarters of the Dera Sacha Sauda.
Gurmeet, who was sentenced to 20 years in jail for raping two followers this week, recommended himself five times. While his address was given as Sirsa three times, on the other two applications he gave Hissar in Haryana and Ganganagar in Rajasthan, where he was born.
According to the documents, of the five recommendations, one was for 'Saint Dr Gurmeet Ram Rahim Singh Ji Insan' by 'Saint Dr Gurmeet Ram Rahim Singh Ji Insan Saintgorge'.
The overwhelming majority of those who recommended the Dera chief's name for the highest civilian honour in the country used single names like Abha, Aditya, Akbar, Alfez, Baljinder, Milky, Gajal, Komal, Jony, Jesse and Ishwar.
An Amit, based in Sirsa, recommended Gurmeet's name 31 times, and a Sunil nominated him 27 times.
A few recommendations were also from his birthplace Ganganagar.
The Padma awards seek to recognise works of distinction and exceptional achievements in different fields and disciplines such as art, literature and education, sports, medicine, social work, science and engineering, public affairs, civil service, trade and industry.
Anyone can nominate any person for the Padma Awards.
The nominations or recommendations for the awards can be received online only on the portal www.padmaawards.gov.in designed by the Ministry of Home Affairs.
Recommendations can also be made by state governments, UTs, ministries, departments of the government of India, Bharat Ratna and Padma Vibhushan awardees, central and state ministers, chief ministers and governors of state, and Members of Parliament.
The nominations are placed before the Padma Awards Committee, constituted by the prime minister every year.
Last Updated Mar 31, 2018, 7:05 PM IST