Why does killing of Hyderabad vet rape-murder accused remind citizens of 2008 Warangal encounter?
All four accused in the rape and murder of the veterinarian in Telangana were killed in an encounter with police, on Friday (December 6) morning, when the accused tried to escape while being taken to the crime spot, police said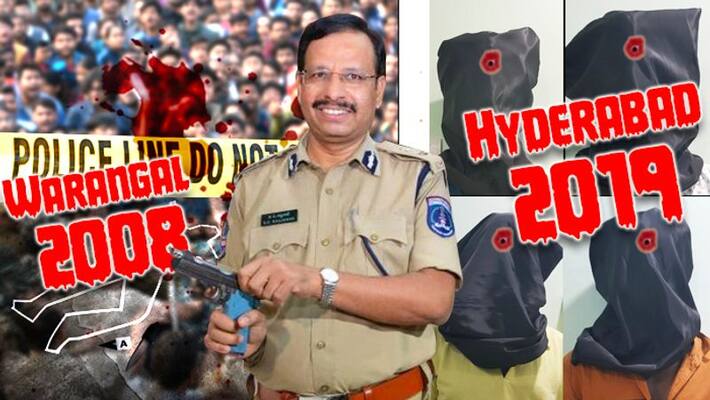 Hyderabad: Minutes after Telangana Police shot all four accused dead in the Hyderabad veterinarian rape-murder case, the incident brought the 2008 Warangal case to light wherein three youths suspected to have attacked two engineering students with acid were killed in an "encounter".
Telangana Police termed the incident as an "encounter" after claiming that they had to open fire in "self-defence" as the four accused tried to escape by pelting stones at the police in a bit to make a run.
The four accused (Arif, Shiva, Naveen and Chennakesavulu) were taken to the underpass on the Hyderabad-Bengaluru highway where the veterinarian's charred body was found, to reconstruct the crime scene.
However, the encounter has striking similarities to that of the Warangal incident, which took place in 2008.
Cyberabad commissioner of police VC Sajjanar was the then superintendent of police of Warangal district in 2008.
After the recent encounter, Sajjanar inspected the encounter site along with other Cyberabad police officers and confirmed that the four accused were killed on Friday (December 6) between 3 am and 6 am.
It all began after the public of Telangana had demanded "Warangal justice" in the case. 
The Warangal "encounter" also took place 11 years ago in the month of December.
VC Sajjanar, the then SP of Warangal, was hailed for killing the culprits who attacked two girls with acid.
On December 10, 2008, two engineering students were riding back home from their college on a two-wheeler when three boys allegedly threw acid at them.
The two girls suffered severe injuries and were hospitalised after which, one among them succumbed to injuries.
The three accused met their end on December 12 after they allegedly resisted arrest and tried to attack the officers in a bid to flee from the site.
Last Updated Dec 6, 2019, 1:58 PM IST