West Bengal bars Central team from visiting districts; Mamata in conflict with Centre
The West Bengal state government is in conflict with the Central government yet again. Even in the midst of the coronavirus crisis, the inter-ministerial central team was not allowed to visit the districts. Mamata Banerjee accused them of not informing the state administration in advance.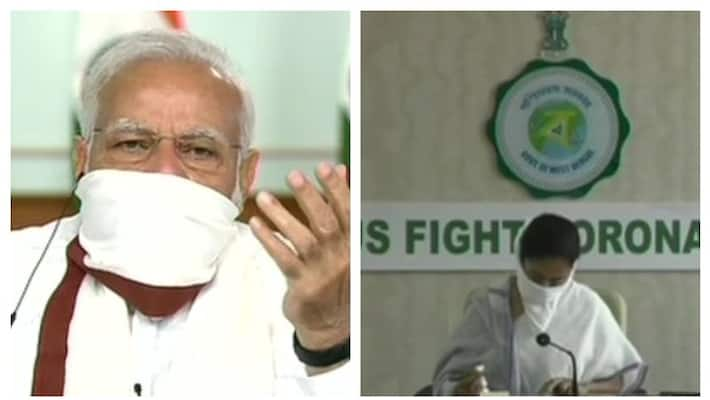 Kolkata: Amid the ongoing coronavirus crisis, the West Bengal state government has been involved in a tussle with the Central government as chief minister Mamata Banerjee rejected the decision of inter-ministerial central team visiting the district.
Mamata's government did not allow the team to investigate and conduct a coronavirus survey and accused the Centre of not informing the state administration in advance.
As a result, the inter-ministerial central team had to stay all day at the BSF camp office in Kolkata.
The chief of the team and also additional secretary of the Union defence ministry, Apurba Chandra, said, "The same directive that has been sent to West Bengal by the Centre was sent to Madhya Pradesh, Maharashtra and Rajasthan. Other central teams are also visiting those states and they are getting all help possible from the respective administrations." However, he could not understand why only they were stopped.
On Monday, Bengal chief minister Mamata Banerjee questioned the Central government's decision to send a delegation team to observe the lockdown situation in the state. She alleged that this decision was a hit on the country's federal structure. The chief minister officially sent a complaint letter to Prime Minister Narendra Modi, on this issue on Tuesday afternoon.
In the letter, Mamata claimed that Union home minister Amit Shah spoke to her at 1 pm and informed her about the Central team's arrival. However, the team had already reached at 10:10am and the chief secretary of Bengal received a letter from the Central Government in this regard, just 30 minutes before their arrival. Sending a delegation team without prior notice is against the norms, Mamata claimed.
Rajiv Sinha, chief secretary of West Bengal also repeated Mamata's stance. "It seems that they (inter-ministerial central team) informed us after their arrival," he said.
On the other hand, central team leader Apurba Chandra said, "I have been in touch with the chief secretary many times since my arrival in Kolkata. I could not go anywhere except Nabanna (state secretariat) and NICED (National Institute of Cholera and Enteric Diseases) all day. We were told we would not be allowed to visit the districts."
The coronavirus situation in seven districts of Bengal, including Kolkata and Howrah, are 'sensitive', according to the Central government. Therefore, the Narendra Modi government has sent an inter-ministerial team to look into the lockdown situation in those districts. Sources claimed, Delhi had sent a letter about this, to the chief secretary of the state on Sunday night. However, the letter was dated April 19.
Last Updated Apr 22, 2020, 2:26 PM IST