West Bengal: 13-year-old blood cancer patient dies; NRS hospital accused of medical negligence
A 13-year-old girl died after falling from a hospital bed. The tragic incident took place at Nilratan Sarkar Medical College. After falling from the hospital bed, the girl lay unconscious on the floor for four hours. No doctors or nurses came to treat the girl. Eventually, the girl died due to alleged hospital negligence.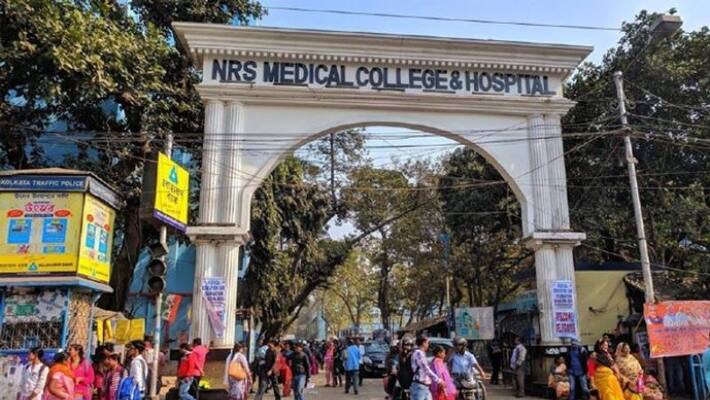 Kolkata: A thirteen-year-old girl dies after falling from a hospital bed. This tragic incident took place at Nilratan Sarkar Medical College. Falguni Debnath, a resident of Mahishpota in Sodepur, was diagnosed with blood cancer. The girl, a seventh-grade student, was admitted to Nil Ratan Sircar Medical College and Hospital on Monday (September 21). Falguni's mother was with her daughter in the hospital ward.
According to sources, the mother of the girl went to the washroom around 7 am on Tuesday (September 22). Suddenly, she could hear the scream of her daughter. She immediately came out from the washroom and saw that the girl had fallen from the bed to the floor.
Also read: Tollywood actress Ditipriya Roy severely trolled for singing folk song at function
Allegedly, the mother was sitting with her daughter on her lap. No doctors came to treat the girl who was lying unconscious in her mother's lap. After four hours, the girl died in her mother's lap.
Falguni's family has blamed the hospital for the death of the girl. The family members told there were no nurses and doctors present in the hospital ward to treat their daughter.
The girl's father said, "They killed my daughter without any treatment. After the girl fell, I ran to call the doctor. He said that he will finish off his duty and then come. But even though the girl was lying for four hours, nobody came."
Also read: WB: BJP leader lays foundation pillar of memorial for deceased students shot by police in violent clash
Nilratan Medical College Super Dr. Karabi Baral said, "If the family of the deceased lodges a written complaint, we will definitely look into the matter."
However, the doctor who was treating Falguni has denied all the allegations of medical negligence. He said, "The girl was suffering from blood cancer. She has been in critical condition since the time she was admitted to the hospital. On Monday (September 21), the family was told that two units of blood would be needed. But they did not collect the blood. After Falguni fell out of bed on Tuesday (September 23), a CT scan was mentioned in the logbook. It is impossible to know where the head injury is without a CT scan. The family members didn't care to do the CT scan"
The nurses of the hospital were accused of not taking proper care of the girl. Falguni's father said, "My daughter had to leave prematurely due to hospital incompetence."
 
Last Updated Sep 23, 2020, 4:36 PM IST