WATCH: Day after Nuh clashes, mob vandalise shops in Gurugram's Badshahpur amid 'Jai Shri Ram' chants
A day after communal clashes rocked Haryana's Nuh, an angry mob vandalised a restaurant and shop in Gurugram's Badshahpur amid 'Jai Shri Ram' chants.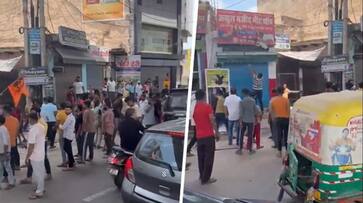 The reverberations of Monday's communal violence in Nuh, Haryana, have travelled 40 km to Gurugram's Badshahpur. A mob on Tuesday vandalised and reportedly torched restaurants and shops in the area amid 'Jai Shri Ram' chants. Videos of the vandalism have gone viral on social media.
Five people were killed and at least 70 others, including several policemen, were injured as a mob in Haryana's Nuh district tried to stop a Vishva Hindu Parishad procession on Monday, pelting stones and setting cars on fire. As a mob attacked the procession, over 2,500 people rushed into the Nalhar Mahadev temple to take shelter.
As the evening wore on, the violence worsened; around midnight, a mosque was set on fire, and dozens of vehicles were burnt and vandalised as crowds rampaged through Nuh and the nearby city of Gurugram.
Security around religious places has been strengthened. Both the police and administration held meetings with prominent members of both communities to ensure peace, police said.
Police have registered about 40 cases and arrested more than 80 people in connection with the communal violence.
Last Updated Aug 1, 2023, 5:05 PM IST