Want to travel by Delhi-Ghaziabad-Meerut RapidX? Check the ticket rates, train stops, facilities and more
Delhi-NCR residents eagerly await launch of India's first regional rapid rail service, RapidX on October 20. The initial 17-kilometer stretch will encompass five stations, including Sahibabad, Ghaziabad, Guldhar, Duhai, and Duhai-Depot, providing a rapid and convenient transportation option for the region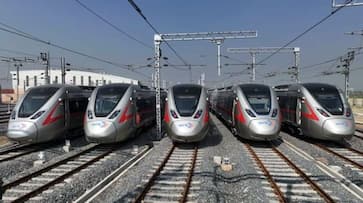 Delhi-NCR residents are eagerly awaiting the launch of India's inaugural regional rapid rail service, RapidX, slated for October 20. Prime Minister Narendra Modi will officiate the inauguration. As the first phase of this service covers a 17-kilometer stretch with five stations, including Sahibabad, Ghaziabad, Guldhar, Duhai, and Duhai-Depot, it aims to enhance the region's connectivity. RapidX will offer services every 15 minutes, boasting an impressive operating speed of 160 kilometres per hour. The initial 17-kilometer stretch from Sahibabad to Duhai is expected to be a game-changer for commuters.
Ticket Fare Structure Announced
The fare structure for Rapid Rail (RapidX) has also been unveiled. The minimum fare will be a budget-friendly Rs 20, ensuring accessibility for many passengers. For the journey between Sahibabad and Duhai Depot station, travellers will need to pay Rs 50, while the premium coach fare may vary. Travelling with young children below 90 cm in height will be free when accompanied by family members. Each passenger will be permitted to carry a maximum of 25 kg of luggage.
Service Commences on October 21
The National Capital Region Transport Corporation (NCRTC) chief spokesperson, Puneet Vats, shared that following the Prime Minister's inauguration on October 20, RapidX's services for the general public will commence at 6 am on October 21. Passengers can embark on a journey from Ghaziabad to Guldhar and Duhai for just Rs 20 in the standard coach. For the Sahibabad to Ghaziabad route, the fare is Rs 30. Meanwhile, the premium coach's minimum fare is set at Rs 40. Travelling from Ghaziabad to Guldhar or Duhai in the premium coach will cost Rs 40, with the fare rising to Rs 80 from Sahibabad to Duhai and Rs 100 to Duhai Depot.
Multiple Ticketing Options
Passengers have various methods to purchase tickets, including the mobile app RapidX, card payments, ticket vending machines at the stations, and ticket counters. To enhance passenger convenience, 14 ticket vending machines have been installed at stations from Sahibabad to Duhai Depot. These machines accept payments via UPI, Paytm, Rupay card, MasterCard, Visa card, debit, or credit card. Mobile app users can scan a QR code to enter the platform, where luggage and passengers will undergo security checks by the Uttar Pradesh Special Security Force (UPSSF).
RapidX Train Interior Features
The RapidX train comprises six coaches, accommodating up to 1,700 passengers. Each standard coach offers 72 seats, while premium coaches have 62 seats. One coach in every RapidX train is reserved for women, following the premium coach. Disabled passengers and senior citizens also have designated seating across all coaches. Additionally, the premium coach provides enhanced passenger-centric features, including reclining seats, coat hooks, magazine holders, and footrests. The first coach traveling from Delhi to Meerut and the last coach heading from Meerut to Delhi are premium coaches, offering passengers a more comfortable journey.
The RapidX train service is set to transform transportation in the Delhi-NCR region, providing a rapid, affordable, and convenient travel option for residents and commuters alike.
Last Updated Oct 19, 2023, 4:43 PM IST