Vizag gas leak: Visakhapatnam Police in Andhra Pradesh dismiss reports of another gas leak
The gas smell sent panic waves in certain areas on late Thursday night. Many people rushed out of their houses and were seen heading to safer places by their vehicles.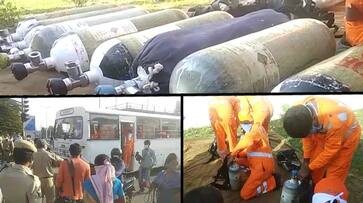 Vizag: Another gas leakage from LG Polymers in Visakhapatnam, Andhra Pradesh, late on Thursday triggered panic in areas near the plant and forced people to move to safe places.
Fumes were seen billowing out of the chemical plant, where the gas leakage in the early hours of the day claimed 11 lives and affected over 300 others.
People from Gopalpatnam, Simhachalam and Pinagadi areas, which are four km away from the plant, were seen moving to safer places.
However, police in Visakhapatnam on Friday rejected late night reports of another gas leak at the chemical plant in RR Venkatapuram village and said that the order to evacuate people from nearby areas was only precautionary. 
People residing in the 2 km radius of the surrounding gas leakage area were ordered to evacuate late on Thursday night.
Visakhapatnam Police commissioner RK Meena assured people that there was no need to panic and that the evacuation was only a precautionary measure.
"People are requested to evacuate the area only within 2 km radius of the spot as a precautionary measure. People beyond the 2 km radius don't need to evacuate or come out on the road. No need to panic," the police commissioner was quoted as saying.
Also read: Andhra Pradesh CM Jagan Mohan Reddy announces Rs 1 crore to kin of deceased
Late Thursday, ANI quoted Visakhapatnam district fire officer Sandeep Anand as saying, "Around 50 fire staffers, with NDRF's support, are carrying out the operation. We've ordered evacuation of villages in 2-3 km radius for safe side precautions." Ten more fire tenders, including two foam tenders were present at the spot while ambulances have been kept ready for any emergency, he added.
State authorities and officials from LG Polymers are probing the cause of the leakage. However, a preliminary situation report by district officials said the trigger was a malfunction in equipment, which caused the temperature to rise and the organic compound styrene – normally a liquid – to vaporise.
The government took immediate action to control the mishap and 9 scientists from Pune's Environment Research Institute reached the factory infusing the neutralisers to control the situation. 
RK Meena on Thursday night had said that no alarming situation was present at the premises, within hours the scientists will get the situation under control. Reportedly there was no threat for people in the area. He added scientists will expectedly announce the condition of the area in a while.
Last Updated May 8, 2020, 11:36 AM IST