Andhra Pradesh gas leak: Death toll hits 11, CM Jagan announces Rs 1 crore to kin of deceased
After visiting the sick in the hospital and taking stock of the situation, Andhra Pradesh chief minister Jagan Mohan Reddy said, "If necessary, will shift LG Polymers plant from Gopalapatnam"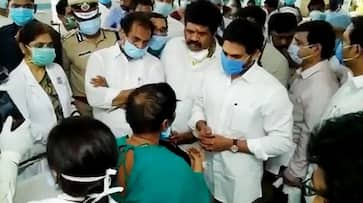 Vizag: At least eleven people including a child died after toxic gas had leaked from LG Polymers facility located near Visakhapatnam in Andhra Pradesh, the state government reported.
Chief minister Jagan Mohan Reddy visited the King George Hospital to assess the situation of those affected by the Vizag gas leak. He also announced Rs 1 crore compensation for each family which faced a casualty due to the tragic incident. 
The Andhra Pradesh government will also be providing Rs 25,000 to those who received primary care treatment, Rs 1 lakh to those who received 2-3 days of treatment and Rs 10 lakh to those on ventilator support.
The CM said all expenses related to the Vizag gas leak will be borne by the Andhra Pradesh government and 15,000 people in and around the plant will be given Rs 10,000 financial help.
Meanwhile, Reddy has ordered a detailed inquiry into the gas leak. Special CS, Secretary Industries, Secretary PCB, Collector, CP will be in the team. 
Earlier,  LG Polymers the unit's South Korean parent firm LG Chemical said on Thursday that the gas leak at the Visakhapatnam polymers plant that killed at least eight people is now under control. It is cooperating with Indian authorities to help residents and employees.
"We are currently assessing the extent of the damage on residents in the town and are taking all necessary measures to protect residents and employees in collaboration with related organizations," LG Chem, the owner of LG Polymers, said in a statement.
LG Chem said that the gas emitted in the leak can cause nausea and dizziness when inhaled. It said it was seeking to ensure casualties received treatment quickly. It was investigating how the leak occurred. A company official in Seoul said separately the affected factory was suspended because of lockdown measures caused by the coronavirus outbreak at the time of the accident.
Principal Secretary to PM Modi PK Mishra held a high level review meeting with Cabinet Secretary, Home Secretary, NDMA, NDRF, Director AIIMS, and medical experts on Vizag gas leak situation. Dr Mishra directed the sending of a team of experts to Vizag and also measures for relief, rescue and short term as well as long term medical impact.
Former Andhra CM Chandrababu Naidu visited Vizag at around 1.30pm after getting permission from the centre to fly from Hyderabad to Vizag. 
Meanwhile, the National Human Rights Commission has issued a notice to the Andhra Pradesh government and the Centre over the gas leak incident in Vizag.
Last Updated May 7, 2020, 5:17 PM IST