Virat Kohli declines soft drinks promotion, says he doesn't consume them himself
"If I don't consume aerated drinks myself, how can I endorse it?", he said.
He refused to renew the multi-crore contract with PepsiCo.
He Tweeted his workout regime to inspire youngsters to stay fit.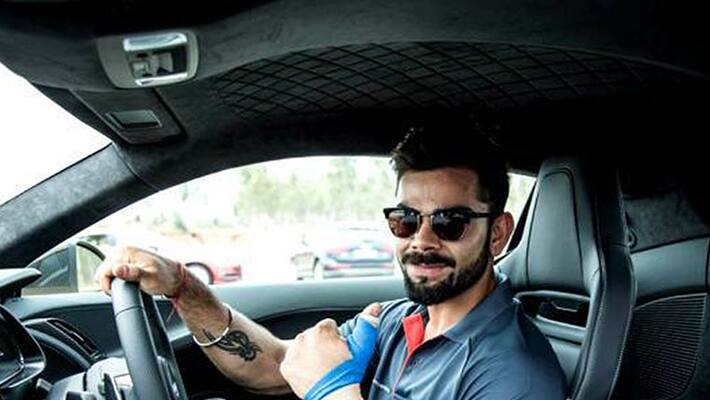 This is the second time that Virat Kohli has turned down a multi-crore endorsement offer to endorse a soft drink, His reason is pretty simple-he does not consume them himself.
India's 28-year old captain is known to set an example for his young fan following and he is pretty much aware of his responsibilities toward them. Earlier this year, he had decided not to renew his endorsement with PepsiCo worth multiple crores, saying that he would only endorse products that he consumes himself and can relate to.
Great set at the shoot the other day, really thoughtful and cool. 🔝🤙 #Chilling #Shooting (1) pic.twitter.com/R0Nuggbsew

— Virat Kohli (@imVkohli) September 13, 2017
Rest day is a cheat day, never stop working hard. 💪🏃 pic.twitter.com/ARPzY8Js6n

— Virat Kohli (@imVkohli) September 8, 2017
Workout for today, done! ✔️💪 pic.twitter.com/hIpmpIbAZm

— Virat Kohli (@imVkohli) August 26, 2017
In an interview, he said, "If I myself won't consume such things, I won't urge others to consume it, just because I am getting money out of it." Kohli's social media presence is equally inspiring. From gym workouts to exercise sessions, he has not left any stones unturned to show his fans what it takes to get a well sculpated and a fit body.
He had once said, "When I started my fitness turnaround, it was more of a lifestyle thing initially. If something goes away from that, I would not want to be a part of that or be promoting that."
Agrees Shankar Basu, the strength and conditioning coach of the Indian team, who is reported to have told BCCI, "This Indian cricket team has brought in the fifth dimension. It all started with playing the game - batting, bowling and fielding - fitness being a part of it. Now the players have embraced fitness and lifestyle which reflects on the buffet spread here. They are extremely aware and well educated on what to have as a proper meal in-take and what not to have.
They are proper professionals and the fifth dimension is here to stay. That is the name of the game now. The macro and micro nutrients, the timing of the meals, supplements and what not has become the game-changer here. It's gung-ho time here."
Way to go Kohli and the Indian cricket team!
Last Updated Mar 31, 2018, 6:56 PM IST