Viral video: BJP's TikTok star Sonali Phogat hits Haryana official with slipper for 'misbehaving'
TikTok star Sonali Phogat of BJP, who lost from Adampur in Haryana Assembly elections 2019, has once again made headlines, not for any video but for hitting an official with a slipper in public. She claimed the official made a 'derogatory' remark against her which infuriated her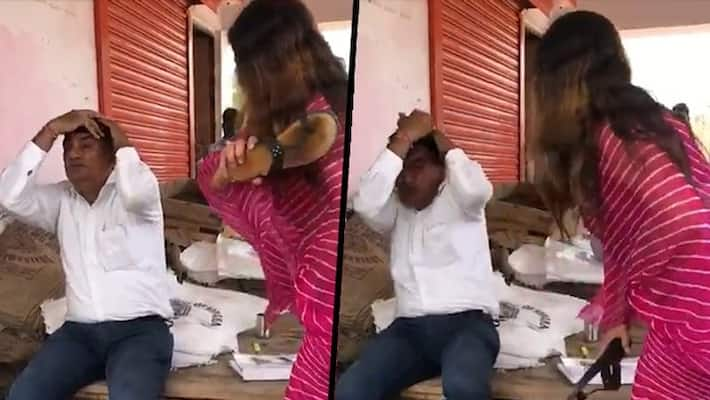 New Delhi: BJP leader and TikTok star Sonali Phogat who shot to fame with her videos has landed herself in trouble.
In a video that has gone viral, Sonali is seen thrashing a market committee official in Haryana and also abusing and hitting him with slipper. As soon as the video went viral and the media reached out to her for reaction, she blamed the official for making "derogatory remarks" against her.
In her defence, the BJP leader justified her act. She said she was on a visit to the district market committee at Balsamand Mandi in Hisar on Friday (June 5) with regard to "farmers' issue", during which the official "misbehaved" with her.
Sonali, who became popular with her TikTok videos, had lost the Haryana Assembly election 2019 in Adampur on a BJP ticket.
It is said that Sonali along with her supporters got an "apology letter" written by the Agricultural Produce Market Committee official Sultan Singh for his alleged action.
However, Singh claimed he had to tender an apology as he feared for his life as Sonali and her supporters surrounded him.
As per reports, Singh was hit six times with slippers and her "intelligent" followers made a video of the entire incident and later a 51-second video made it to the micro-blogging website Twitter.
Netizens slammed her behaviour and some even questioned saying, "what is the need of courts if such acts happen and are justified".
This incident was enough for the opposition Congress which used as a fodder to attack the BJP-led Haryana Government and state chief minister Manohar Lal Khattar.
Congress' national spokesperson Randeep Singh Surjewala tweeted, "The market committee secretary was thrashed like an animal."
"These acts (have been) done by a BJP leader. Is it a crime to do a government job? Will (chief minister Manohar Lal) Khattar take action against Phogat? Will the media still remain silent?" he questioned.
Last Updated Jun 6, 2020, 11:21 AM IST