Viral: Disgruntled thief leaves letter at SDM's MP home, asks 'why house was locked when there was no money'
A copy of the message, in which the thief wrote: "Jab paise nahi they toh lock nahi karna tha, collector," has leaked on social media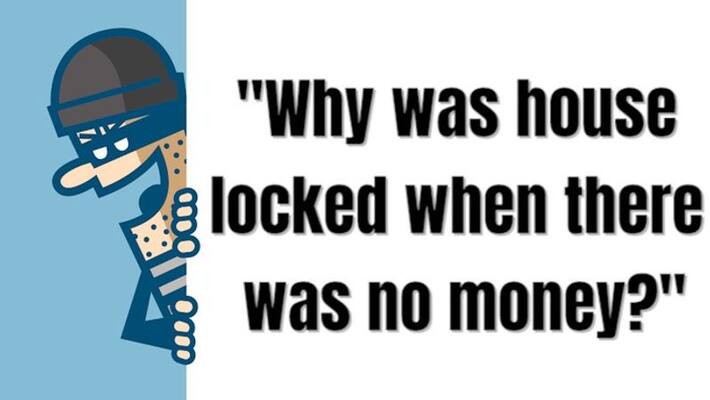 In a bizarre incident, a burglar left a note at the property of a government official in Madhya Pradesh's Dewas district, asking "why was the house was locked when there was no money" kept at home after being dissatisfied with the lack of cash and valuables, police said on Monday. A copy of the message, in which the thief wrote: "Jab paise nahi they toh lock nahi karna tha, collector," has leaked on social media (when there was no money, it should not have been locked, collector).
In charge of Kotwali police station, Umrao Singh stated that Rs 30,000 in cash and some jewellery items were taken from the house of Trilochan Singh Gaur, who is now serving as a sub-divisional magistrate (SDM) in the district's Khategaon town. When the SDM arrived home on Saturday night after a fortnight away, he learned about the theft. Top district police officials live in the same neighbourhood as the SDM's official house. According to Singh, a handwritten message, allegedly written by the burglar, was discovered at Gaur's home.
Also Read | Bizarre: US woman charged $11 by hospital for crying during surgery
The burglar reportedly took the government officer's notepad and pen to compose the message. According to Singh, the police have begun an inquiry into the event and have filed an FIR against unnamed individuals. The letter has gone viral on social media, with many speculating that the robber was angry because he only had a small amount of money and expected a large quantity from the residence of a senior official, which is why he left a note. Other than cash and jewellery, the burglar took nothing else. The event has prompted concerns about security in high-profile regions of Madhya Pradesh, including the homes of local members of Parliament and SDM Pradip Soni.
Also Read | Chef Salt Bae opens new restaurant in UK, Twitter user shares bill worth Rs 1.81 lakh
Last Updated Oct 11, 2021, 4:13 PM IST