Vidyadhari river dam breaks again due to excessive rain; huge loss incurred by villagers
The river embankment was broken, and saltwater entered the houses of the people. An old man died after slipping in the saltwater. Crops have been left damaged due to saltwater.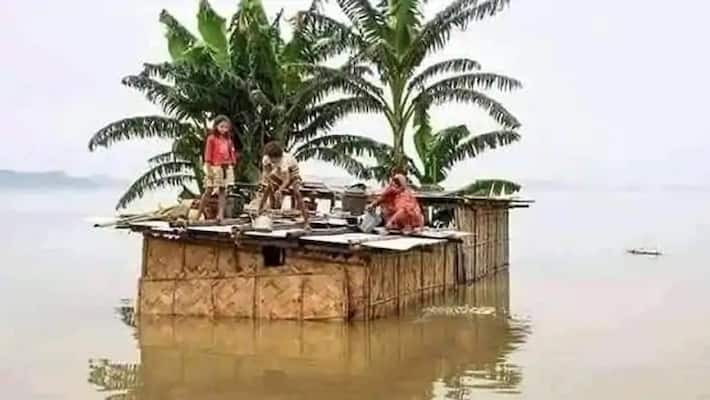 Kolkata: There is constant rain in South Bengal for several days due to low pressure. Many accidental deaths have occurred in Basirhat. In North 24 Parganas, the dam of Vidyadhari river was broken and saltwater entered the village. Ordinary people are suffering from the saltwater that entered their houses. Amidst such a situation, a man died in an accident at Mohanpur village of Haroa Police Station in Basirhat. The family claimed that the man died because he slipped and fell into the ground due to saltwater entering the house.
Also read: Villagers perform Maha Mrityunjaya Yagna for speedy recovery of Pranab Mukherjee
According to reports, the dam of Vidyadhari river was broken and saltwater has entered many houses. Niranjan Patra, a resident of Mohanpur village, was busy removing household items when he slipped and fell. He was admitted to Basirhat District Hospital with serious injuries. As his condition deteriorated, he was referred to RG Tax Hospital in Calcutta. Niranjan Patra died on Thursday (August 27) morning. However, officials of Haroa Police Station have started an investigation to find out whether Niranjan indeed died due to the accident.
Also read: Pranab Mukherjee in hospital: Former landlord breaks down, wishes speedy recovery for 'Chhorda' 
Meanwhile, the water level of Minakha and Haroa Vidyadhari rivers has risen due to continuous rain. Problems in the river dams too have risen in the villages along the river. Vegetables, paddy, and jute have been left destroyed as saltwater has entered farmlands. Farmers fear a huge loss in fish farming due to the infiltration of saltwater in the fishpond.
Last Updated Aug 27, 2020, 7:29 PM IST