Vice President Jagdeep Dhankhar hoists national flag at new Parliament
Leader of the Opposition Mallikarjun Kharge expressed disappointment over a delayed invitation. An all-party meeting precedes the five-day special Parliament session. Key legislative items include a bill related to the Chief Election Commissioner's appointment, 'The Advocates (Amendment) Bill, 2023,' and more.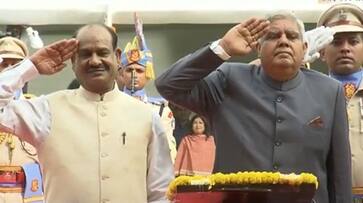 Vice President of India and Rajya Sabha Chairman, Jagdeep Dhankhar, raised the national flag at the newly constructed Parliament building on Sunday, a day ahead of the special Parliament session. The event was attended by prominent figures including Lok Sabha Speaker Om Birla, Union Minister of Parliamentary Affairs Pralhad Joshi, Rajya Sabha Deputy Chairman Harivansh, Ministers of State of Parliamentary Affairs Arjun Ram Meghawal and V Muraleedharan, along with leaders from various political parties in both Houses.
"This is a momentous occasion, marking a historic milestone in Bharat's journey. The world now fully recognizes the strength, power, and contributions of our nation. We are living in an era where we are witnessing unprecedented development and achievements," Dhankhar expressed to reporters following the ceremony.
"The remarkable progress we are experiencing locally is now gaining global recognition in the most positive light. Today's event is undeniably a historic and pivotal development."
Leader of the Opposition in Rajya Sabha, Mallikarjun Kharge, was notably absent from the flag hoisting ceremony due to his prior commitments in Hyderabad, where he is attending a two-day meeting of the newly-formed Congress Working Committee. Kharge expressed his disappointment over the delayed invitation to the event in a letter addressed to Rajya Sabha Secretary General Pramod Chandra Mody.
In his letter, Kharge stated, "Since the programs had been fixed much in advance, I am presently in Hyderabad to hold the meetings. As I will return to Delhi late at night on September 17, it will not be feasible for me to attend the function scheduled for tomorrow morning." Ahead of the upcoming five-day special session of Parliament from September 18 to 22, an all-party meeting is scheduled for today at 4:30 PM. Minister Pralhad Joshi confirmed the meeting, stating that invitations had been sent to concerned leaders via email.
The agenda for the special session of Parliament has been a subject of speculation, but a parliamentary bulletin has clarified that the first day will be dedicated to discussing Parliament's 75-year journey. The tentative list of business includes the consideration and passage of a bill related to the appointment of the Chief Election Commissioner and other election commissioners.
Furthermore, the Lok Sabha's agenda includes bills such as 'The Advocates (Amendment) Bill, 2023' and 'The Press and Registration of Periodicals Bill, 2023,' both of which were passed by the Rajya Sabha on August 3, 2023. Additionally, 'The Post Office Bill, 2023' is also listed for discussion in the Lok Sabha.
Last Updated Sep 17, 2023, 10:33 AM IST