Uttar Pradesh: 25000 madrassas under SIT scanner over foreign funding
The SIT, comprising three members, will assess how these funds are utilized and whether they are being channeled for educational purposes or diverted elsewhere. The team will concentrate on madrasas operating in districts along the Indo-Nepal border.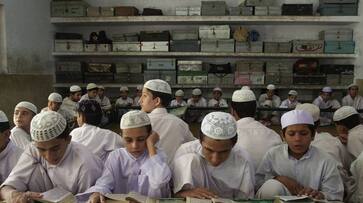 The Uttar Pradesh government has established a Special Investigation Team (SIT) consisting of three members, led by an Additional Director General rank officer, to scrutinize foreign funds received by madrassas within the state. There are approximately 25,000 madrassas in Uttar Pradesh, with more than 16,500 being officially recognized by the state Board of Madrasa Education.
Additional Director General of the Anti-Terror Squad (ATS), Mohit Agarwal, stated, "We will assess the utilization of foreign funding in madrassas to determine if it is being used for educational purposes or diverted elsewhere." The other two members of the SIT include J Reebha, Director of the Minority Welfare Department, and Triveni Singh, Superintendent of Police in the Cyber Cell. The SIT will focus on madrasas operating in districts along the Indo-Nepal border.
The government has not set a specific timeline for the investigation, which will encompass both registered and unregistered madrasas. The SIT has already requested information about madrasas from the state board. Last August, the Yogi Adityanath-led government instructed district magistrates to conduct a survey of unrecognised madrassas. During this two-month survey, 8,449 unrecognised madrasas were discovered to be operational.
Cabinet Minister for Minority Welfare, Muslim Waqf, and Haj Dharmpal Singh expressed concerns about madrassas in areas along the Nepal border, citing zakat and donations as their primary sources of funding. It was revealed that the local population was not financially capable of providing such funds, raising suspicions of foreign funding sources.
Apart from districts like Lakhimpur Kheri, Pilibhit, Shravasti, Siddhartha Nagar, and Bahraich adjacent to the Nepal border, more than 1,000 madrassas are operating in nearby regions. The number of madrassas in these areas has seen significant growth in recent years, and reports suggested they were receiving foreign funding.
The Minority Welfare Department conducted investigations into unrecognized madrassas in several districts, revealing that many were indeed receiving foreign funding.
In a separate development, the Anti-Terror Squad recently arrested three members of a gang involved in the illegal entry of Bangladeshi citizens and Rohingyas. The investigation unveiled that a Delhi-based NGO received Rs 20 crore in foreign funding over three years, which was being used to support these activities.
Last Updated Oct 23, 2023, 11:22 AM IST