Udaipur tailor Kanhaiya Lal's killers linked to BJP: Ashok Gehlot's big claim
Ashok Gehlot alleged that the accused behind Kanhaiya Lal's murder were arrested by police in another case days before his murder and BJP leaders came to the police station to release them.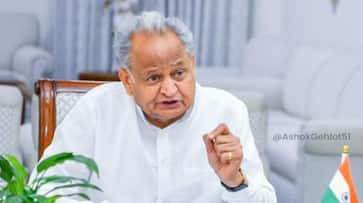 Rajasthan Chief Minister Ashok Gehlot alleged on Sunday that the Bhartiya Janata Party (BJP) was connected to the assassins of tailor Kanhaiya Lal Teli. Kanhaiya Lal was butchered at his shop by two men in Udaipur on June 28 last year, and his murder sent shockwaves across the country.
The chief minister of Rajasthan said that days prior to Kanhaiya Lal's death, the suspects in his murder were detained by police in connection with another case, and that BJP officials had visited the police station to secure their release.
"The culprits have links to the BJP. Days before the incident, the police had arrested these accused in some other case and some BJP leaders visited the police station to get them released," news agency ANI quoted Gehlot as saying.
Also Read | Despite SC ban, Delhi residents celebrate Diwali with firecrackers; AQI deteriorates (WATCH)
The Congress leader also alleged that the BJP was trying to spark communal tension ahead of the November 25 assembly elections in Rajasthan.
Gehlot's remarks came following Prime Minister Narendra Modi's earlier remark that Congress sympathises with terrorists. He had made the remark during an election rally near Udaipur on Thursday while referring to tailor Kanhaiya Lal's brutal killing.
Addressing an election rally in Chittorgarh last month, Prime Minister Narendra Modi accused the Gehlot-led Congress government of playing a 'vote-bank politics' in the Kanhaiya Lal case.
Also Read | Maulana Raheem Ullah Tariq, JeM terrorist and Masood Azhar's friend, shot dead in Karachi
"The murder of Kanhaiya Lal ji is a big stain on the state government. Such a heinous incident happened in Udaipur because there is a Congress government which sympathizes with terrorists," Modi had said.
Rajasthan will go to polls on November 25 and the counting of votes will take place on December 3. In the 2018 Assembly elections, the Congress won 99 seats while the BJP secured 73 seats in the 200-member House.
Last Updated Nov 13, 2023, 11:05 AM IST