Tragic accident in Karnataka's Hospet: Lorry-SUV collision claims 7 lives of family
A tragic accident in Vijayanagara district resulted in seven fatalities, including three women and a child. A truck with a malfunctioning steering wheel collided head-on with an SUV, causing it to overturn and be struck by another lorry. The victims were residents of Hospet, on their way to a temple visit.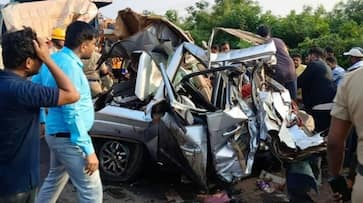 In a devastating accident on Monday evening, seven individuals, including three women and a child, lost their lives when a truck collided head-on with an SUV. The collision resulted in the SUV overturning and being struck by another lorry from behind. The tragic incident occurred near Gunda forest on the National Highway in Vijayanagara district.
Reports from the police indicate that the truck was travelling from Chitradurga towards Hospet when its steering wheel malfunctioned, causing the vehicle to turn onto the opposite side of the road. At that precise moment, an SUV was approaching from Harapanahalli en route to Hospet. The out-of-control truck collided with the SUV, causing it to overturn. Tragically, a tipper lorry travelling behind also collided with the overturned SUV, leading to the fatalities of all seven occupants inside.

Bengaluru: BMTC bus claims life of three-year-old
The victims have been identified as Gonibasappa (65), Bimalinga (50), Yuvaraja (4), Anil (30), Bhagya (32), Kenchavva (80), and Uma (45). All were residents of Ukkadakeri in Hospet. Their purpose for the trip was to visit the Koolalli temple located in Harpanahalli taluk.
Both the drivers sustained injuries in the collision and have been admitted to Hospet Government Hospital for medical treatment.
Last Updated Oct 10, 2023, 12:32 PM IST