Onam Bumper 2023 Results Out: First Prize ticket sold from Kozhikode's Bava Lotteries
The Government of Kerala on behalf Lottery Department declared "Thiruvonam Bumper BR 93 Result " winners. Kerala Lottery Result 2023 for Onam Bumper BR.93 was drawn today (Sep 20) at Gorky Bhavan Near Bakery Junction Thiruvananthapuram at 2 pm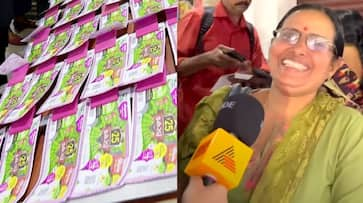 Kerala: The Government of Kerala on behalf Lottery Department declared "Thiruvonam Bumper BR 93 Result " winners. Kerala Lottery Result 2023 for Onam Bumper BR.93 was drawn today (Sep  20) at Gorky Bhavan Near Bakery Junction Thiruvananthapuram at 2 pm
As per latest reports, Guruswamy, who sold the ticket, said that the Onam bumper winner is from Tamil Nadu this time. Natarajan, a native of Annur, Coimbatore, Tamil Nadu, bought those tickets. Guruswami also explained that the tickets were sold four days ago.
The ticket was purchased from Kozhikode agency Bava Lotteries in Walayar, Palakkad. The ticket sold by an agent named Sheeba S won the first prize. But it is indicated that the winner is not from Kozhikode district. There are rumours that the winner is from Palakkad district.
The ticket TE 230662 has got the first prize with jackpot worth Rs 25 crores.  Around 75 lakhs tickets were sold during this Onam bumper season. The maximium number of tickets was sold in Palakkad. Around 11.70 lakhs tickets were sold in Palakkad. The ticket was sold before 10 days from today
Also read: Onam Bumper 2023 Result today: Check the winner
Kerala Onam Bumper lottery tickets were released on July 24, 2023. The second prize will be to 20 people this time with one crore rupees each.50 lakhs each will be awarded to 20 people for the third prize. 5 lakh each for 10 people and the fourth prize. 2 lakh each 10 people will get the fifth prize. 
Now after the tax deductions, the first prize winner will roughly get Rs 15 crores 75 lakhs. The state government said that ticket sales breaks last year's record of 66 lakh. 
The Onam bumper lottery sponsored by the Kerala government, which offers the greatest lottery reward in the nation, has increased its value this year by awarding more than 5.3 lakh prizes, up from almost four lakh the year before. The prize money awarded to the winners will be subject to a deduction of 37%.
The winners from other states should submit their winning tickets to the directorate of state lotteries. Damaged tickets are not eligible for the prize. A ticket can receive only one prize in the respective number, which is the highest. Income tax and other taxes will be deducted from the prize money. Thiruvananthapuram is the legal jurisdiction of the Kerala Lottery
 
Last Updated Sep 22, 2023, 12:51 PM IST