These people knew about currency ban seven months ago
A Gujarati newspaper had published an article on banning of ₹500 and ₹1000 currency notes seven months ago
A reporter from Dainik Jagaran had the news of releasing new ₹2000 notes 15 days before the official announcement was made
So, was the demonetising decision really kept secret?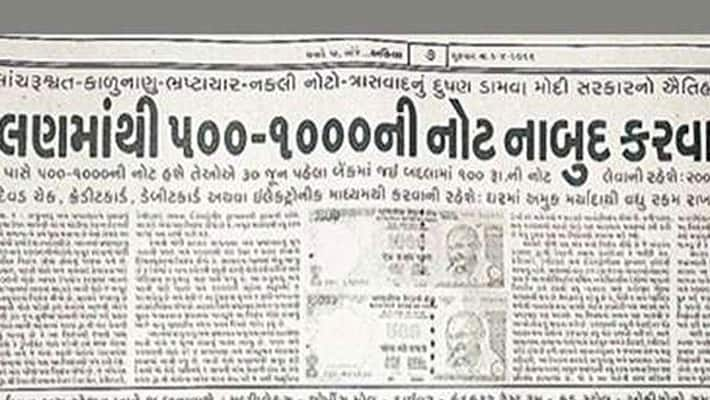 Akila, a Gujarati newspaper published an article 'Decision to Discontinue ₹500 and ₹1000 notes' seven months before the real announcement. Brajesh Dubey of Dainik Jagran daily newspaper reports with his byline that ₹2000 notes will be introduced on October 27.
Currently, New Delhi Chief Minister Aravind Kejriwal and Congress leaders are demanding probe on the rumours that BJP leaders knew about the decision on demonetising, much before it was announced.
The Dainik Jagaran reporter from Kanpur told the IANS that he cannot reveal the source of his information but confirmed that longstanding sources gave him the information that new ₹2000 currency notes will be released soon.
In another shocking incident, Akila, a newspaper based out of Rajkot had intelligently published a story stating ₹500 and ₹1000 currency notes will be demonetised on April 1.
The publishers of the newspapers had clarified that it was an April Fool's joke as it was published on April 1. But how can such a story idea crop up from out of the blue is the question.
However, these two incidents hint that 'some' people did know about the demonetisation.
Currently, the move has inconvenienced people who are thronging the ATMs even after midnight and queue up before the banks even before they open.
Finance Minister Arun Jaitley has said that these problems will be set right in two weeks. But no one is bothered about how the people are going to manage till the problem is set right.
If 'some' were considered above equal and made to know the government's secret decision before hand, this will prove to be a grave mistake from the Centre as the decision has caused misery to people.
Last Updated Mar 31, 2018, 6:59 PM IST