Temple vandalised after neighbouring villages clash in West Bengal
After a temple in West Bengal's Malda district was vandalised, Section 144 was imposed in the area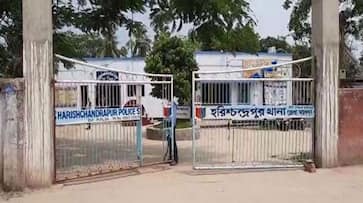 Malda: Coronavirus panic sparked communal tension in Harishchandrapur in Malda district of West Bengal. Reportedly, the residents of two neighbouring villages were involved in a clash on Sunday night. Following this, a village temple was vandalised, and Section 144 was imposed.
Governor Jagdeep Dhankar also expressed his concern over the matter.
How the fight broke out
Chandipur and Mankibari are two neighbouring villages in Harishchandrapur. Reportedly, after a few coronavirus positive cases were reported in Mankibari, villagers of Chandipur sealed their village with bamboo fences.
Residents of Mankibari protested over this as they depend on the market in Chandipur for their needs. However, the market was also closed in fear of the virus spreading. The residents of these two neighbouring villages got into an argument over this on Sunday morning.
It is learned that these two villages had minor troubles and arguments over the last few days. Meanwhile, a doctor of Chandipur, had allegedly refused to treat the patients of a particular community. He claimed, all the COVID patients of Mankibari had returned from Ajmer Sharif and belonged to a particular community.
A group of people from Mankibari attacked Chandipur village late on Sunday. They allegedly broke the bamboo fence and attacked several houses. Several villagers were thrashed. The villagers also vandalised an idol in the village temple of Chandipur.
Upon receiving news of the attack, police rushed to the spot at night. Six people were arrested and brought to Harishchandrapur Police Station.
The situation remains very tense in the area and all the political parties are looking into what transpired. BJP, CPM, Congress, and even TMC are planning to send representative teams to the spot and inspect the situation.
Jagdeep Dhankhar, the Governor of West Bengal, who is very active on social media and has been in a row with the ruling party of the state regularly, expressed his concern in a tweet. He urged chief minister Mamata Banerjee and the police to take stern action against the miscreants. However, all the political parties in Malda district alleged that the governor's message added a different dimension to the incident.
Last Updated May 11, 2020, 6:41 PM IST