Tele actress Priyanka reveals her true self, sheds negative image in Bigg Boss house
The Darbar task on Bigg Boss helped villainous Priyanka shed her negative image and change the perception about her for the better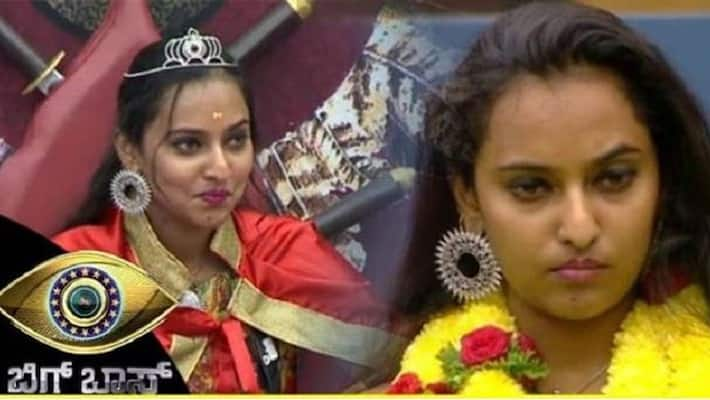 Bengaluru: Contestants on the reality show Bigg Boss often tend to lose their good image as the show progresses but this time the situation seems to be headed in the opposite direction for one of the contestants- Priyanka.

Priyanka was usually portrayed as lazy and arrogant in front of housemates, but things took a complete turn when she was termed the best queen during the Darbar task in the show. Her administration during the task brought her accolades in the house and gained her many praises.
 
Kiccha Sudeep, who hosts the show, in a 'Yes or No' game, had once asked contestants to name the laziest person in the house and Priyanka was voted as the laziest and arrogant person of the lot. Though it was contestants just voicing their opinions, this didn't go well with Priyanka and she immediately responded.
Priyanka had said, "I don't accept their allegations of being lazy and arrogant. In the (Bigg Boss) house, I do my part of work diligently but why should I bother about others' work?"
Priyanka always has a serious face and doesn't talk much. She answers straight to the point and this attitude of hers has gained her a bad reputation in the house. This is one of the reasons why Priyanka has been nominated to be evicted from the Bigg Boss house over the last few weeks. 
Priyanka was made the queen during the task and as she rose to power, was instructed by Bigg Boss to hand out punishments. But her administration was a little different as she didn't punish her housemates arbitrarily. Her motto was simple stating that punishments shouldn't make contestants feel bad or feel remorse. Hence, she gave punishments that would be fun to undergo.
This change in Priyanka's attitude was well received by the audience and helped her shed her negative image. Not just her pervious attitude in Bigg Boss but also her antagonist role in a TV series had earned her a negative image.
Luckily, Priyanka has been able to turn the table for the better on Bigg Boss.
Last Updated Nov 5, 2019, 2:58 PM IST