Telangana: Ministers inaugurate Ranganayaka Sagar project to release Godavari water
While maintaining social distancing norms, minister for information technology KT Rama Rao and finance minister T Harish Rao formally switched on one of the four pumps releasing water into the reservoir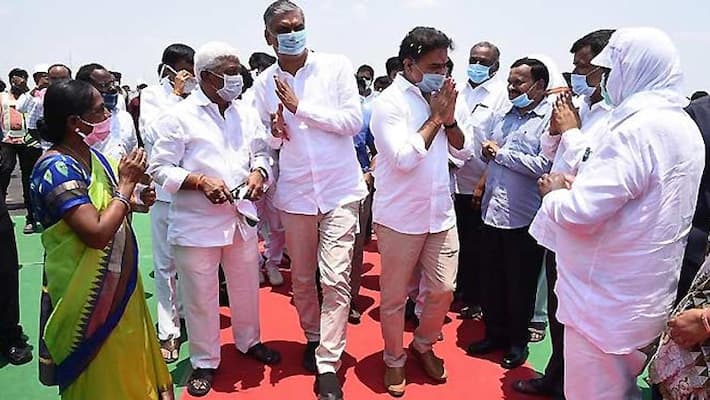 Finance minister T Harish Rao and Municipal Administration and Urban Development (MAUD) minister KT Rama Rao released Godavari water into the reservoir of the 3tmcft Ranganayaka Sagar project. While maintaining social distancing norms, KT Rama Rao and T Harish Rao switched on one of the four pumps releasing water into the reservoir, which once filled will be able to irrigate 1,14,000 acres of land in both Siddipet and Rajana Sircilla districts.
The water was lifted from a height of 90 metres from Kaleshwaram site to 490 meters at Ranganayaka Sagar site. The reservoir was built on 2,300 acres of land acquired by farmers, and the cost of the project was Rs 3,300 crore. With a capacity of 3tmcft, the project seeks to irrigate 1.10 lakh acres of parched land.
The reservoir also fills 400 lakes and check dams through the canals of Ranganayak Sagar reservoir.
Finance minister Harish Rao said that the long-cherished dream of the people has come true and attributed its success to chief minister K Chandrasekhar Rao.
He thanked the engineers and workers for their coordinated efforts in fulfilling the aspirations of people.
Last Updated Apr 24, 2020, 6:27 PM IST