Teacher sets up 'Annapurna Bhandar' for 'tiger widows' amid lockdown
Over a hundred 'tiger widows' of Sundarban in West Bengal faced a massive hunger crisis amid the coronavirus-induced lockdown. A teacher with the help of others set up a community kitchen for them at a village school.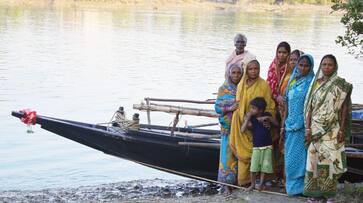 Kolkata: Their husbands were all probably killed by a tiger or a crocodile or by some other wild animal. Since then they have been living in extreme poverty. Some of them get a widow allowance, the rest have resorted to begging. They are called "tiger widows".
Amid the coronavirus lockdown, over 100 "tiger widows" of Parghumti village in South 24 Parganas district of West Bengal have been starving. However, now a teacher and some local youths have joined hands to feed the widows meals at a village school.
Parghumti village of the Sundarban area, now known as 'Bidhaba Gram' (Widows' Village), was a place where men used to make a living by catching fish and crabs in the river or collecting honey in the forest.
But as days passed by, one by one, persons would go missing. Villagers thought they probably fell victim to wild animals. Not a single complaint was lodged for fear of harassment. They never received any compensation even when the husbands were the sole breadwinners of the families. So, in addition to the personal loss, they faced grave financial problems. 
These widows are in their 60's and at this age they have to wander around to find a meal. However, the coronavirus-induced lockdown has left them with no option but to starve. Witnessing the misery of these marginalised people, a teacher named Tushar Mandal could not sit idle.
Accompanied by a few local youths, he has arranged food for the tiger widows at a school premises in Parghumti village. Hot meals are being served in the classroom twice a day. Egg-rice meals are regular on the menu, while sometimes the widows get chicken-rice meals as a part of 'Annapurna Bhandar'.
"No one was bothered about these helpless widows. They can't walk properly, can't see well, their skins are wrinkled. I thought we should stand by these helpless people as much as we can. Many more responded to my call. As long as the lockdown lasts, we will feed them. Several wealthy families in the district are financing this 'Annapurna Bhandar' project. We are grateful to them," said Tushar Mandal, teacher and the social worker.
Last Updated May 14, 2020, 3:29 PM IST