Tamil Nadu: Seven women killed in road accident in Tirupattur; 10 injured
A stationed van fell on seven women when a goods lorry hit the van from behind on the Chennai-Bengaluru Highway (NH 44) at Sandaipalli village near Natrampalli town in Tirupattur district. All the seven women were killed on the spot.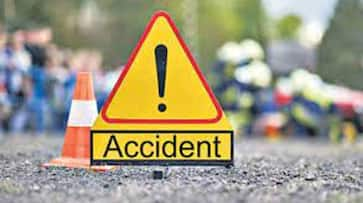 Tirupattur: In a tragic incident, seven women sitting on the low-level concrete median were crushed to death after the stationed tourist van fell on them when a speeding lorry hit the van from behind in the early hours of Monday (Sep 11). The incident took place on the Chennai-Bengaluru Highway (NH 44) at Sandaipalli village near Natrampalli town in Tirupattur district at 2.40 am. The deceased were identified as M. Meena (50), D. Devayani (32), P. Saittu (55), S. Devika (50), V. Savitri (42), K. Kalavathi (50) and R. Geetha (34). All of them are the natives of Pernambut town in Vellore district. 
Also read: Chandy Oommen enters Kerala Assembly, takes oath as Puthupally MLA
According to the police, the van and lorry drivers were among the ten people injured in the collision. Of them, five were women. The deceased women were visiting religious and tourism destinations in Karnataka starting on September 8 with eight family members from Pernambut town. For this, they had rented a tourist van.
The van's front tyre punctured as they were driving home on the highway after exploring tourist attractions. As a result, everyone in the van got out and started sitting on the concrete median, which is about one foot high, close to the van. The vehicle's warning lights and other lights were operational. P. Arunachalam (34), the driver of the goods-laden lorry, who was travelling from Bengaluru to Chennai with a shipment of smart boards for classrooms, failed to see the vehicle and struck the parked van from behind. Seven women were killed instantly when the van crashed into those seated on the median next to it.
The patrol cars from the Natrampalli police and the NHAI arrived on the scene immediately and assisted in rescuing the injured people. After that, they were sent to the Government Medical College Hospitals in Krishnagiri, Tirupattur, and Vaniyambadi. The bodies were shifted to the government hospital in Tirupattur. A case has been filed by Natrampalli police.
Last Updated Sep 11, 2023, 11:18 AM IST