Tamil Nadu CM Stalin surprises city bus passengers; watch video
Tamil Nadu Chief Minister MK Stalin boarded the city bus and briefly interacted with the passengers.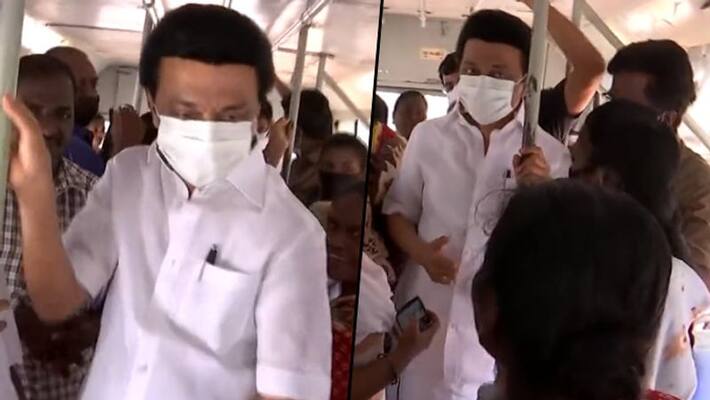 Passengers of Tamil Nadu were stunned when Chief Minister M K Stalin climbed the vehicle and communicated with them. When he boarded the bus at Kannagi Nagar, the chief minister was on his way to check a few vaccination camps arranged as part of the sixth mega Covid-19 immunisation drive. 
CM Stalin climbed the "M-19 b Kannagi Nagar-T Nagar" bus, much to passengers' delight. An official said he essentially enquired with the women about the government's free bus travel scheme for them. CM Stalin also shared the video on Twitter and mentioned his experience in the city bus.
The Chief Minister's convoy stops in the video, and MK Stalin crosses the road and boards the bus on the other side. The pleasantly surprised passengers were seen greeting him with folded hands inside the bus, and a few ladies even snapped selfies with the Chief Minister.
Early this month, CM Stalin surprised the Madhurai people by partaking in the Pappapatti Gram Sabha meeting. First time in history, a State Chief Minister has participated in the Grama Sabha meeting.
Meanwhile, the Tamil Nadu government has relaxed the Covid-19 restriction. The state government also allowed 100% occupancy in film theatres and lifted time limitations on the functioning of shops. Watch the video.
Last Updated Oct 25, 2021, 9:32 AM IST