Tamil Nadu assembly passes resolution demanding Cauvery water from Karnataka
The Tamil Nadu assembly passed a resolution demanding Cauvery water from Karnataka to support delta farmers. Chief Minister MK Stalin urged compliance with Cauvery Water Management Authority directives, citing an "artificial crisis." The AIADMK supported the resolution, but the dispute remains unresolved, with BJP amendments excluded.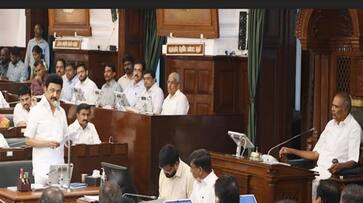 On the opening day of the Tamil Nadu assembly's winter session, Chief Minister MK Stalin moved the resolution, emphasizing the importance of safeguarding the livelihoods of Cauvery delta farmers, who are integral to the state's agriculture. He called upon the Union Government to direct Karnataka to release water to Tamil Nadu in accordance with the directives of the Cauvery Water Management Authority (CWMA).
The resolution, put forth by Chief Minister MK Stalin, comes in response to what he described as Karnataka's creation of an "artificial crisis" by not complying with the Supreme Court's directives regarding the Cauvery water release.

Cauvery row: Pro-Kannada activist Vatal Nagraj calls to close all national highways in Karnataka on Oct 10
The resolution was adopted after a spirited debate between Leader of the Opposition Edappadi K Palaniswami and members led by Chief Minister Stalin. Notably, the AIADMK extended its support to the resolution.

Cauvery row: CWMA upholds order of CWRC; Directs Karnataka to release 3000 cusecs of water to TN
During the discussion, Palaniswami emphasized the need to exert pressure on the central government regarding the inter-state river dispute. He recalled past actions, including the suspension of Parliament by his party in response to this issue.
It's worth noting that the resolution's passage does not seem to provide a comprehensive solution to the Cauvery water dispute, as the BJP's proposed amendments were not included, signifying ongoing challenges in resolving the matter.
Last Updated Oct 9, 2023, 4:58 PM IST