Supreme Court refuses to ban selling of liquor, says states can consider online sale
Supreme Court on Friday disposed of a public interest litigation (PIL) seeking ban on the sale of liquor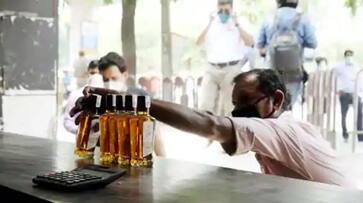 New Delhi: Supreme Court has refused to pass orders to ban liquor sales. The Supreme Court has said states should consider online sales or home delivery. The Supreme Court will not interfere, it has to be a policy decision, said the court.
"We will not pass any order, but the states should consider indirect sale or home delivery of liquor to maintain social distancing norms and standards," said Justice Ashok Bhushan, as quoted by the Bar and Bench.
On May 1, the Centre allowed the sale of liquor in standalone wine stores across the country from May 4 except in COVID-19 hotspots. It added that people should ensure a distance of six feet from each other and ensure that not more than five people are present at one time at the shop.
"Liquor stores and paan shops will be allowed to function in green zones while ensuring a minimum six feet distance (2 gaz ki doori) from each other and ensuring that not more than five persons are present at one time at the shop," the statement from the Ministry of Home Affairs (MHA) said.
Liquor and paan shops inside malls or marketplaces are not allowed to operate yet. Containment zones are those areas in red and orange zones that have been sealed due to a high number of COVID-19 infections. Only essential activities are permitted in these areas.
The government had prohibited sale of liquor and paan/gutkha since March 24, when the first phase of lockdown was announced by Prime Minister Narendra Modi.
 
Last Updated May 8, 2020, 2:51 PM IST