Super Pink Moon 2020: All you need to know about year's biggest, brightest Supermoon; how to see in India
On April 8 (Wednesday), get ready to witness the Super Pink Moon. Here is your guide and what time Super Pink Moon will appear in India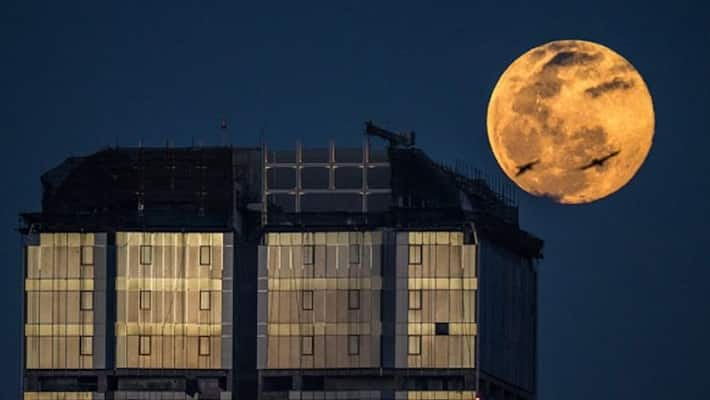 Bengaluru: Amid the 21-day lockdown due to the coronavirus (COVID-19) in India, get ready to see the biggest and the brightest sighting in the sky on Wednesday morning (April 8).
It is Supermoon time on April 7 and 8. In India, approximately at 8.05 am on April 8, you can watch the Super Pink Moon. This will be the biggest and brightest Supermoon of the year 2020.
Also read: In world's first, tiger tests positive for coronavirus
What time to see Super Pink Moon in India? Find out here (https://www.timeanddate.com/moon/)
The first Supermoon of 2020 appeared on March 9 (Super Worm Moon) and the next one is on May 7 (Super Flower Moon). Each month's Supermoon has a name. For April, it is called Super Pink Moon.
What is a Supermoon?
According to The National Aeronautics and Space Administration (NASA), "A supermoon occurs when the moon's orbit is closest (perigee) to Earth at the same time it is full."
On April 7, the Super Pink Moon will be 356,907 kilometres from Earth. This will be the closest to Earth the Moon gets this year and hence it will be the biggest and the brightest to see.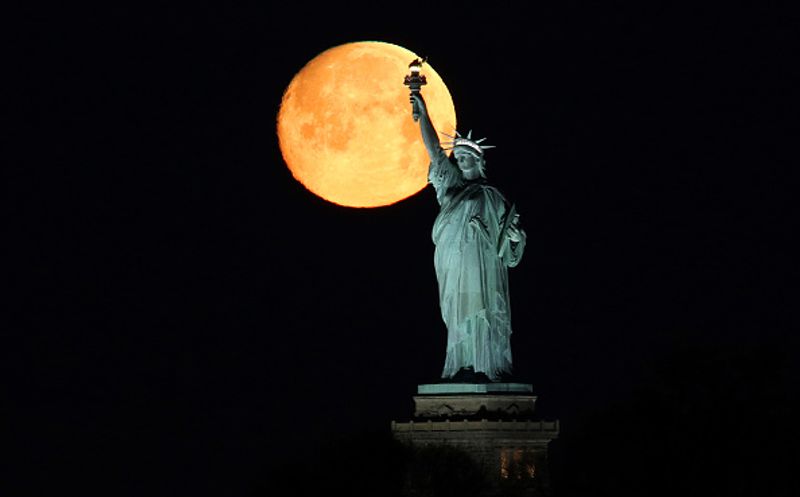 An almost full moon at 97.6 % sets behind the Statue of Liberty on March 8, 2020 in New York City
NASA said, "The term Supermoon was coined by the astrologer Richard Nolle in 1979 and refers to either a new or full Moon that occurs when the Moon is within 90% of perigee, its closest approach to Earth in a given orbit. By this definition, in a typical year there can be 3 or 4 full Supermoons in a row and 3 or 4 new Supermoons in a row. In practice, what catches the public's attention are the full Moons that appear biggest (and therefore brightest) each year.
"For 2020, the four full Moons from February to May meet this 90% threshold, with the full Moons in March and April nearly tied. The full Moon next month will be slightly closer to the Earth (about 0.1%) than this March full Moon."
"Historically, full Moon names were used to track the seasons and, for this reason, often relate closely to nature. The Moon names that we use today stem from Native American and Colonial-era sources. Traditionally, each full Moon name was applied to the entire lunar month in which it occurred, rather than just the full Moon itself," the almanac website said.
Why is it called Super Pink Moon?
"Northern Native Americans call April's full moon the pink moon after a species of early blooming wildflower. In other cultures, this moon is called the sprouting grass moon, the egg moon, and the fish moon," National Geographic website said.
Here is the list of Supermoon names for each month 
January: Wolf Moon
February: Snow Moon
March: Worm Moon
April: Pink Moon
May: Flower Moon
June: Strawberry Moon
July: Buck Moon
August: Sturgeon Moon
September: Corn Moon
October: Hunter's Moon
November: Beaver Moon
December: Cold Moon
In the picture at the top, Super Worm Moon rises in the sky over the high-rise tower seen from Parel, on March 9, 2020 in Mumbai
Last Updated Apr 6, 2020, 12:10 PM IST