Coronavirus: In world's first, tiger at Bronx Zoo in New York tests positive for COVID-19
Nadia, a four-year-old female Malayan tiger at the Bronx Zoo in New York, has tested positive for coronavirus (COVID-19), the authorities confirmed on Sunday (April 5)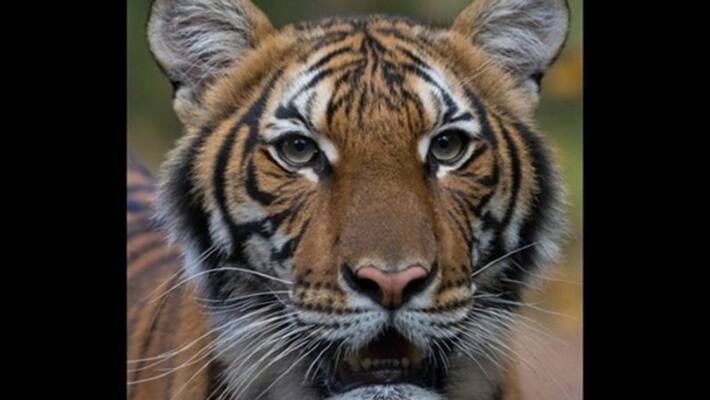 New York: In a world's first, a tiger has tested positive for the novel coronavirus (COVID-19) at Bronx Zoo in New York City, the Wildlife Conservation Society (WCS) which manages the zoo said on Sunday (April 5). Bronx Zoo has been temporarily closed since March 16.
"Nadia (pictured above), a four-year-old female Malayan tiger at the Bronx Zoo, has tested positive for COVID-19. She, her sister Azul, two Amur tigers, and three African lions had developed a dry cough and all are expected to recover," Wildlife Conservation Society said in a statement.
Watch: 'Diya Jalao' — India stands united, lights up lamps
"This positive COVID-19 test for the tiger was confirmed by USDA's National Veterinary Services Laboratory, based in Ames, Iowa. We tested the cat out of an abundance of caution and will ensure any knowledge we gain about COVID-19 will contribute to the world's continuing understanding of this novel coronavirus," it added.
This is the first known case in the world where an animal has been tested positive for coronavirus.
Also read: US records worst single-day death toll globally
Across the world over 12 lakh people have been affected by the virus. More than 69,000 have lost their lives. In the US, over 3 lakh cases have been reported and 9,000 have died from the virus.
Wildlife Conservation Society explained, "Though they have experienced some decrease in appetite, the cats at the Bronx Zoo are otherwise doing well under veterinary care and are bright, alert, and interactive with their keepers. It is not known how this disease will develop in big cats since different species can react differently to novel infections, but we will continue to monitor them closely and anticipate full recoveries.
"The four affected tigers live in the zoo's Tiger Mountain exhibit. One male Amur tiger that also lives at Tiger Mountain has not exhibited any clinical signs, and a Malayan tiger and two Amur tigers at the zoo's Wild Asia exhibit have also not exhibited any clinical signs."
The Bronx Zoo, located on 265 acres of hardwood forest in Bronx, New York, opened on November 8, 1899. It is world-renowned for its leadership in the areas of animal welfare, husbandry, veterinary care, education, science and conservation. The zoo is accredited by the Association of Zoos and Aquariums (AZA) and is the flagship park of the Wildlife Conservation Society (WCS) which manages the world's largest network of urban wildlife parks including the Bronx Zoo, Central Park Zoo, Prospect Park Zoo, Queens Zoo and New York Aquarium.
Photo courtesy: Wildlife Conservation Society (WCS)
Last Updated Apr 6, 2020, 10:03 AM IST