Spilled blood won't be forgotten: PM gets blunt with Pakistan
Modi said India had never bowed to terror and will never do so in future
'Pakistan is engaged in a conspiracy of causing bloodshed across the continent.'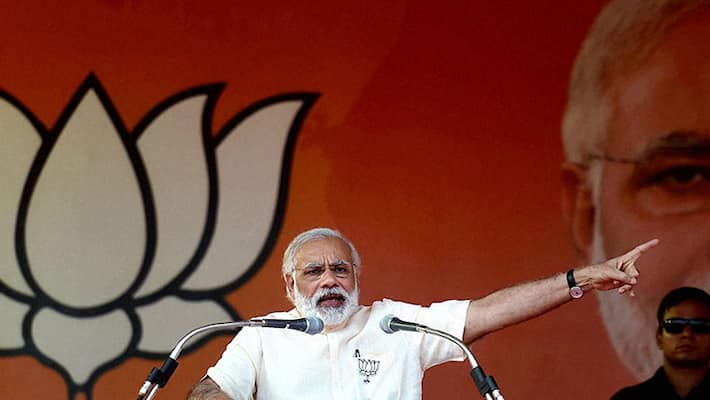 In a blunt warning to Pakistan, Prime Minister Narendra Modi today said the Uri attack would not be forgotten as he accused it of conspiring to spill blood across Asia by exporting terror. 

Launching a blistering attack on Pakistan in his first public address after last Sunday's deadly terror attack, he said the sacrifice of 18 soldiers would not go in vain while all out efforts will be made to isolate that country globally.

"Terrorists should hear out clearly that India will never forget the Uri attack... I want to tell the leadership of Pakistan that the sacrifice of our 18 jawans will not go in vain," Modi told a large public meeting on the Kozhikode beach held on the sidelines of the BJP national council meet. 

He said while countries in Asia are working to make the 21st century Asia's, Pakistan is engaged in a conspiracy of causing bloodshed across the continent by sponsoring terrorism and killing innocents. 

Asserting that Pakistan was behind terror incidents in Afghanistan, Bangladesh besides India, he said: "across the world wherever a terrorist incident happens you will find that either terrorist had gone from there (Pakistan) or come to live there like Osama-bin-Laden." 

He indicated that India's efforts would be directed at isolating Pakistan diplomatically, saying it has already succeeded in this regard and will speed up measures in this regard. 

The Prime Minister, who has been having meetings with top ministers, BJP leaders and service chiefs in the last few days, however, did not spell out the nature of what India's response would be.

Modi said India had never bowed to terror and will never do so in future and will strive to defeat it. 

Referring to the big crowd at a party rally, Modi sought to link it with its increasing strength in a state where it has mostly been a minor player before emerging as a force to reckon by garnering near 15 per cent votes in the last assembly polls.
"In Kerala, workers of Bharatiya Jan Sangh and BJP have sacrificed their lives. Their martyrdom inspires party workers in the rest of the country. Their sacrifice and sufferings will not go in vain," Modi said. 

"At some point in time, their sacrifice will bear fruit. Destiny of Kerala will change, and BJP will be the instrument to do it," the Prime Minister said, apparently referring to political violence in the state in which many BJP and RSS workers lost their lives. 

Hitting out at the CPI(M), Amit Shah said the attack against BJP workers is not new, and they are facing violent attack even in the Chief Minister's constituency. 

"They think that they would be able to stop the growth of BJP in Kerala through violent assault. They are wrong. BJP will further gather strength despite such attacks," he said. 

Party will give a befitting reply to the forces unleashing violence through all democratic means, Shah said. 

Referring to the party's performance in the May 16 Assembly poll, the BJP president claimed he was confident that in the next elections in Kerala, the party would form the government.

"India has never bowed to terrorism, nor will it ever. It will pause only after defeating it," he said.
Last Updated Mar 31, 2018, 6:54 PM IST