Spectacular Mysuru Dasara returns: Festivities set to commence on October 15; check details
Mysuru Dasara 2023 begins with a lineup of events. Highlights include the Jamboosavari on August 24th, cultural programs, poetry recitals, and a variety of festivities throughout the Dasara Mahotsava. Dignitaries including Chief Minister Siddaramaiah will participate in the celebrations.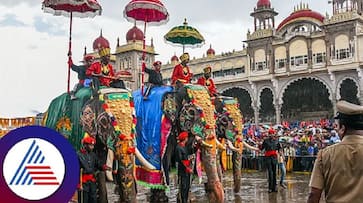 The world-renowned Mysuru Dasara 2023 is all set to commence with a grand lineup of events and celebrations. Film music director Hamsalekha will preside over the auspicious Scorpio Lagna ceremony on the 15th of August from 10:15 a.m. to 10:36 a.m. at Sri Chamundeshwari Devi Sannidhi in Chamundibetta.
The highlight of the Dasara festival, the Jamboosavari, is scheduled for the 24th of August. On this day, Chief Minister Siddaramaiah will offer prayers to Nandidhwaja at Palace Balarama Gate during the auspicious Makara Lagna, which will occur from 1:46 pm to 2:08 pm. Following this, in the auspicious Meena Lagna from 4:40 pm to 5:00 pm, floral offerings will be made to Chamundeshwari, the revered goddess of the land, as she proceeds in a golden howdah. DCM D.K. Shivakumar and royalty Yaduveera Krishnadatta Chamaraja Wodeyar will also be in attendance.

Mysuru Dasara 2023: Golden Throne to be assembled in Mysuru Palace today
Later in the evening, at 7:30 pm, the Panjina parade will take place at Bannimantapa ground, with Governor Thawarchand Gehlot receiving a special felicitation. Chief Minister Siddaramaiah, Deputy Chief Minister D.K. Shivakumar, and others will participate, and MLA Tanveer Seth will preside over the event.
A distinguished gathering of dignitaries, including Union Ministers Nirmala Sitharaman, Prahlada Joshi, Rajeev Chandrasekhar, Shobha Karandlaje, A. Narayanaswamy, Lord Khuba, State Minister Dr. H.C. Mahadevappa, K. Venkatesh, Shivraj Thangadagi, Ramalingareddy, Ishwar Khandre, and Mayor Sivakumar, will grace the occasion. Chamundeshwari Constituency MLA G.T. Deve Gowda will preside.
Additionally, at 7 p.m. on the same day, Chief Minister Siddaramaiah will inaugurate the Dussehra cultural programs at the palace premises and present the Rajya Sangeet Vidwan award. Assembly Speaker U.T. Khader and Legislative Council Chairman Basavaraj will be present, with MLA from Krishnaraja Constituency T.S. Srivatsa presiding over the event.
The festivities kick off with a Film Festival at Kalamandir on the 15th at 11:30 am, followed by a fruit and flower show at Kuppanna Udyan at 12:30 pm, which will be inaugurated by In-charge Minister Dr. H.C. Mahadevappa. Food Minister K.H. Muniappa will inaugurate a food fair at Scouts and Guides ground at 1 p.m., and at 4 p.m., Deputy Chief Minister Siddaramaiah will inaugurate the wrestling tournament at the Devaraja Arasu Multi-Purpose Stadium and the exhibition at Doddakere Maidan at 5 pm.
Kannada and Culture Minister Shivraj Thangadagi will present a state-level sculpture and painting exhibition at the Kalamandir at 5:30 pm, followed by the lighting of the electric lamp at Sayajirao Road at 6:30 pm, to be inaugurated by Energy Minister K.J. George.

Mysuru Dasara 2023: Public entry restricted inside Palace on THESE dates
The Dussehra Mahotsava also features four poetry recitals, including one by Poet Jayant Kaykini at the Kalamandir on the 17th at 11:30 am, a women's poetry recital at Rani Bahadur hall on the 18th at 11 am, an Urdu poetry concert on the 19th at 7 pm at Classic Hall, Bangalore Road, and the main poetry concert at Kalamandir on the 21st at 11 am, to be inaugurated by Poet Sasikala Vastra.
The celebrations are not limited to these events, as various programs, including Yuva Dussehra, Rural Yoga, Rangoli event, Women's Dasara, Traditional Cycle Ride, Handicraft Exhibition, Youth Dasara, Traditional, Yoga for Jail Birds, farmer Dasara, State Level Cow Milking Competition, Heritage Walk, Dussehra Sports, Yoga Charan, and Pet Show, will take place throughout the Dasara Mahotsava.
Last Updated Oct 10, 2023, 11:11 AM IST