SP leaders send strong unity message to kick off Vikas Rath Yatra
Samajwadi Party's Vikas Rath Yatra kicks off after month's delay.
SP patriarch Mulayam Singh Yadav flagged off the campaign.
The yatra scheduled to travel from Lucknow to Bangarmau.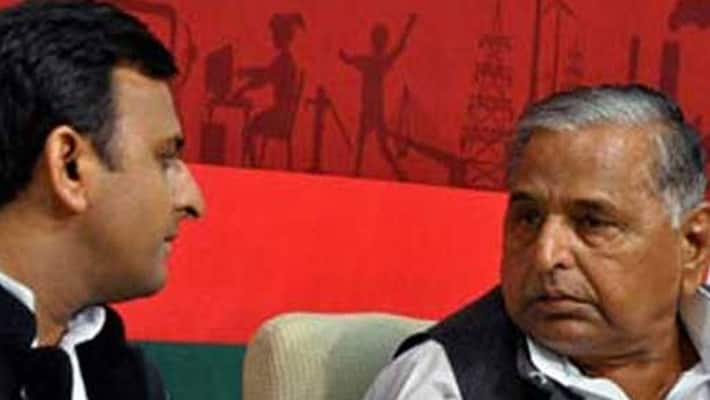 Ahead of the suspenseful UP elections, the ruling Samajwadi Party sent a strong unity message as party patriarch Mulayam Singh Yadav flagged off the current CM Akhilesh Yadav's rath yatra in the presence of SP chief Shivpal Yadav. 
The party, in the recent times, has been fighting a bitter power struggle and it was a matter of speculation whether Mulayam Singh Yadav would be attending the flag off ceremony of the much anticipated Akhilesh Singh's rath yatra or not. However, he ended all the speculations by reaching the flag off venue, La Martinere grounds, after Akhilesh Yadav and was joined by SP Chief Shivpal Yadav. 
This Vikas Rath Yatra campaign trail was scheduled to hit the road a month ago on 3th October, but the battle for supremacy within the party family caused unexpected interruption delaying the campaign by a month. 
Apart from Mulayam Singh Yadav's presence, Shivpal Yadav's presence also came as a pleasant surprise as earlier he termed this Rath Yatra as 'Akhilesh's youth function' where his presence is unnecessary. 
Shivpal gave his best wishes to Akhilesh during the flag off and stated, "Akhilesh ko hum shubhkamna detey hain (I wish him well),"
Further, he added, "Our target is to prevent BJP from coming to power in the state in the crucial 2017 elections,"
Speaking at the occasion and the recent developments within the party CM Akhilesh Yadav said, "There were some outside conspiracies to break up the Samajwadi party. And it is true we got waylaid for some time. But we are now on track. This is not a case of us versus them; we are together," 
This maiden Rath Yatra ahead of the assembly elections is scheduled to travel from Lucknow to Bangarmau where Akhilesh Yadav will be addressing a public function. 
The Yatra that began on a high note for Samajwadi Party witnessed a setback as the bright customised state-of-the-art red Mercedes Benz luxury bus used as the Rath broke down within one kilometer. However, the CM without wasting any time changed his vehicle and continued his Yatra on his own SUV. 
Last Updated Mar 31, 2018, 6:36 PM IST