Siddaramaiah's dhoti comes off during a heated Karnataka assembly debate; watch video
During a heated debate in the Karnataka assembly, opposition leader Siddaramaiah's dhoti came off. He blamed "weight gain" as the reason behind this wardrobe malfunction.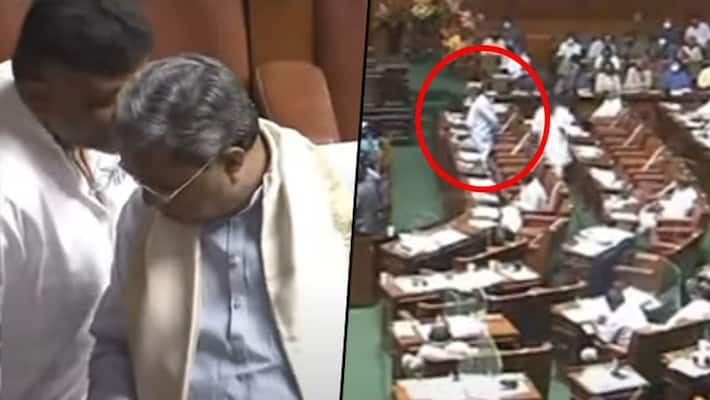 Former Karnataka CM and leader of opposition Siddaramaiah was so engaged in a debate that he not even realised that his 'panche' (dhoti or mundu) was about to fall. However, state Congress president DK Shivakumar hindered him and told him about the situation in his ear. The latter incident has left everyone in splits.
The video starts with Karnataka Congress president DK Shivakumar whispering in opposition leader Siddaramaiah ear that his dhoti was falling. For which Siddaramaiah replies, "Is that so?"  and quickly lift his dhoti and announce to the entire house that he will resume his talk after properly wrapping his dhoti. This provoked the whole assembly to giggle.

Siddaramaiah was engaged in a heated debate regarding the functions of the Myusuru police force following the gang-rape case. Kumar Bangarappa, who was in the assembly's chair, said, "It's complicated if you unveil the issue."
Siddaramaiah tightens his dhoti and says that post Covid-19 recovery; he put on around 4-5 kgs weight. Also, his belly size developed to result in which his dhoti keeps falling. Addressing Minister KS Eshwarappa, he says, "Of late, my paunch has increased Eshwarappa, and my 'panche' keeps coming off." All the Ministers and MLA's present in the assembly looked on amused.
Towards the end of the video, Congress MLA Ramesh Kumar says, "Our president DK Shivakumar murmured in Siddaramaiah's ear to save his image. However, Siddaramaiah declared it to the entire House. So, people from BJP will be anticipating to sink our image.' Siddaramaiah replies, "BJP can try, but they cannot do anything to our image."
The video went crazy viral on all social media platforms and accumulated over 63000 views. After watching the video, social media users were left in splits.
On Monday, former CM Siddaramaiah and KPCC president DK Shivakumar hit the streets with the bicycle to protests over the rising price of essential commodities and petrol. Result of which office goers and motorists forced to face the traffic jams during peak hours.
Last Updated Sep 24, 2021, 12:26 PM IST