'Release innocent Sikh youths': SGPC demands amid Punjab police crackdown against Amritpal Singh
The SGPC also sought from the government to revoke the National Security Act (NSA) slapped against a few persons during the Punjab police action.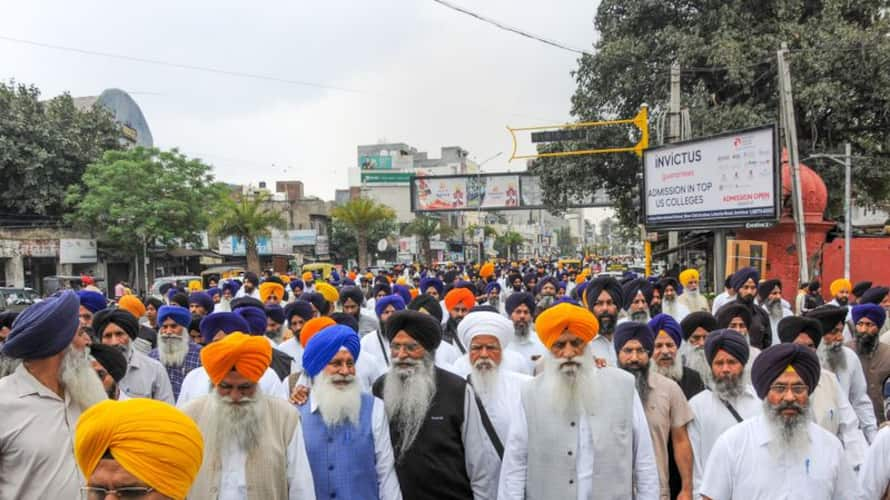 The SGPC took out a procession in Amritsar on Friday in a bid to press the Punjab government to release "innocent Sikh youths" arrested during a police crackdown on radical preacher Amritpal Singh and his outfit Waris Punjab De.
The Shiromani Gurdwara Parbandhak Committee, the apex gurdwara body, also sought from the government to revoke the National Security Act (NSA) slapped against a few persons during the police action.
Led by its chief Harjinder Singh Dhami, the procession marched from the SGPC headquarter to the district administration complex. The members submitted a memorandum to Additional Deputy Commissioner Surinder Singh, which included the demand for the release of "innocent Sikh youths" arrested during the crackdown.
The Punjab government has informed the Akal Takht, the supreme temporal body of Sikhs, that almost all the people taken into preventive custody - 348 out of 360 - have been released.
The Akal Takht Jathedar's personal secretary Jaspal Singh said the government has informed them the rest would be released soon.
Earlier this week, Punjab Chief Minister Bhagwant Mann had hit out at Akal Takht Jathedar Giani Harpreet Singh for "provoking" people through an ultimatum to the state government to release all the Sikh youths. The Jathedar had responded that he has the right and duty to speak about "innocent Sikh youths".
He had also condemned the state government for invoking the stringent NSA against some of those held. Just days before the Jathedar's ultimatum, Punjab police had said that nearly 30 people detained during the crackdown were hardcore criminals and the remaining would be released after verification.
Punjab's Inspector General of Police (Headquarters) Sukhchain Singh Gill had said the government has made it clear to them that no innocent person should be booked. Action should be taken only against those who were involved in criminal activities, he had said.
On Friday, SGPC chief Dhami slammed Chief Minister Mann for his comments against the Jathedar. "Bhagwant Mann's comment on Jathedar sahib is a direct challenge to the dignity of Sri Akal Takht Sahib and the Sikh community. He should immediately apologise to the Sikh community for this disregard," he said. Dhami said the Akal Takht is immutable while the governments "keep coming and going".
"The chief minister should not forget Sri Akal Takht Sahib is not the name of a building, it is the true Takht established by Sri Guru Hargobind Sahib, the sixth Sikh Guru, in the light of a principle and thought. The Mughals, the British, and the governments of the time tried to bend it, but had to give up in front of this principle blessed by the Guru. Today's governments are also making such a big mistake," Dhami said.
(With inputs from PTI)
Last Updated Mar 31, 2023, 5:33 PM IST