Reboot Namma Bengaluru: Police commissioner interacts with RWAs on ways to control COVID-19 spread
Bengaluru Police commissioner Kamal Pant participated in a video conference Reboot Namma Bengaluru, in which he interacted with members of RWAs on ways to mitigate burning issues related to COVID-19

Bengaluru: Namma Bengaluru Foundation, an initiative taken up by BJP MP Rajeev Chandrasekhar organised a videoconference Reboot Namma Bengaluru with Bengaluru Police commissioner Kamal Pant.
The agenda of this meet was to discuss efforts of the government, especially the police, to control the COVID-19 situation in Bengaluru and how RWAs, NGOs and citizen groups could contribute in this regard.
The top cop spoke extensively on how the personnel have been participating effectively in curbing the spread of the virus, as also maintaining the law and order situation.
For example, he described how police stations were converted into kitchens during the migrants issue a few months ago.  Every police station served food to these migrants.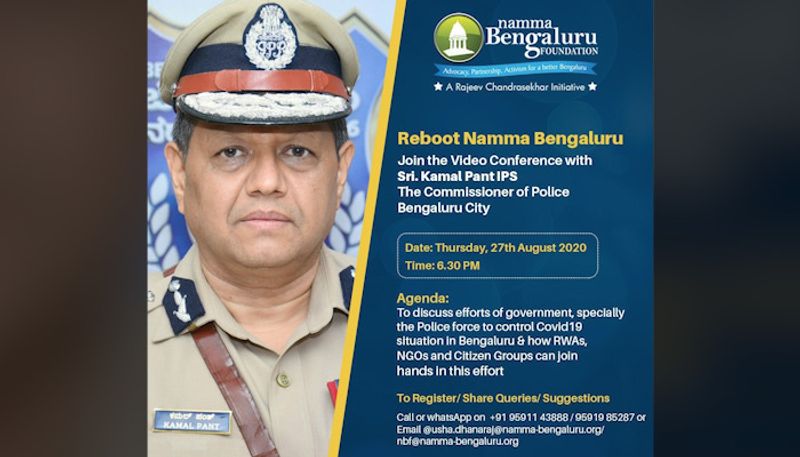 Apart from this, he lauded his men for working relentlessly for months together and risking their own lives. He even recalled how a constable enthusiastically helped a COVID-19 patient reach the nearest hospital, when he himself was diagnosed with the same.
Extolling the RWAs for their successful implementation of COVID-19 protocols, the commissioner also touched upon the bane of spitting in public places.
He said, "It is a very big concern. People are careless. We will work with you to enforce that. Fines are being imposed. The idea is not to collect money but dissuade them from the scourge." 
Another issue that has been lingering during the ongoing pandemic is the bad habit of not wearing masks, which play a crucial role in preventing the spread of the virus. The top cop said, "80% who come to see me don't wear masks. We have to remind them to wear them. Awareness has to be created. It is sad that people don't know the importance of wearing masks. I am also in talks with members of the civic society to enforce this."
Apart from spitting and not wearing masks, citizens are a little sceptical about hospitalisation. They fear they would not get beds at the right time at the right costs. But Pant allayed these fears.
"My impression about hospitalisation is that it has eased out now. Ambulance services too should have eased out now. If there is any such situation wherein patients find it difficult to find beds or are being fleeced, please dial 100. I will intervene and get it solved. At no cost should any person suffer."
The senior cop also addressed myriad other issues like travelling in and out of the city during this time, the importance of quarantine, how the cops are dealing with crimes like chain snatching incidents, inter alia. 
Before the session ended, the top cop requested further cooperation from the general public and exhorted the members of the RWA to be more participative in joining hands with his personnel in making Bengaluru a better place to coexist.    
 
Last Updated Aug 27, 2020, 8:02 PM IST