Rajya Sabha adjourned till September 22 after repeated chaos created by Opposition
Rajya Sabha was adjourned till 9 am on Tuesday (September 22) after Opposition MPs created a ruckus in the Upper House of the Parliament.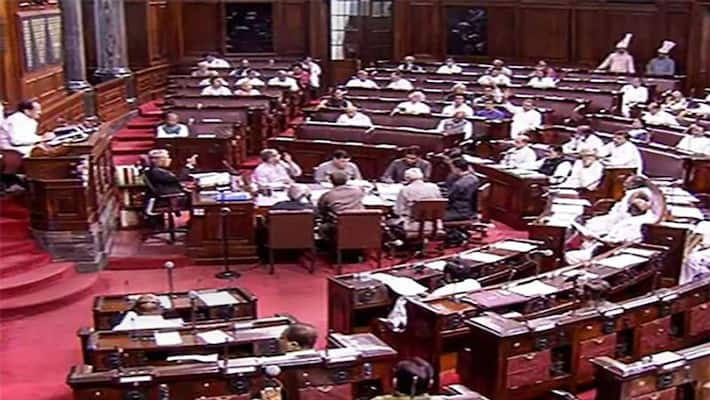 New Delhi: The Rajya Sabha was adjourned till Tuesday 9 am following ruckus by Opposition MPs on Monday (September 21).
In the chair, Bhubaneswar Kalita had requested suspended MPs to leave the House. "LoP can make his points as per the rules. This has happened before, it is not something unprecedented," he had said.
The Rajya Sabha Chairman on Monday suspended eight MPs for the remaining part of the Monsoon Session. The Opposition MPs were suspended over yesterday's unprecedented drama in Rajya Sabha during the passing of controversial farm bills. The MPs include Trinamool Congress's Derek O'Brien, Aam Aadmi Party (AAP)'s Sanjay Singh.
"Eight members of the House are suspended for a week. Derek O Brien, Sanjay Singh, Raju Satav, KK Ragesh, Ripun Bora, Dola Sen, Syed Nazir Hussain and Elamaran Karim were suspended for one week for unruly behaviour with the Chair," said Rajya Sabha Chairman M Venkaiah Naidu.
Rajya Sabha faced multiple adjournments throughout the morning as the Opposition lawmakers who were suspended refused to leave the House and resorted to sloganeering.
Rajya Sabha had on Sunday passed two key farm bills, dubbed as the biggest reform in agriculture by the government, with voice vote amid unruly scenes by protesting opposition members. While the BJP and its allies are claiming that Opposition MPs disrupted the house, Opposition leaders accused Rajya Sabha deputy chairman Harivansh Narayana Singh of failing to adhere to established parliamentary procedure.
Two key Farm Bills were on Sunday passed by Rajya Sabha with voice vote amid unprecedented unruly scenes by protesting opposition members.
Last Updated Sep 21, 2020, 12:55 PM IST