Rajasthan CM Ashok Gehlot asks MLAs to stay put in hotel till 14 August
Rajasthan CM Ashok Gehlot has instructed all MLAs to stay put in the hotel till 14 August i.e. till the start of the Assembly Session, as the hearing in the case of BSP MLAs continues in the high court.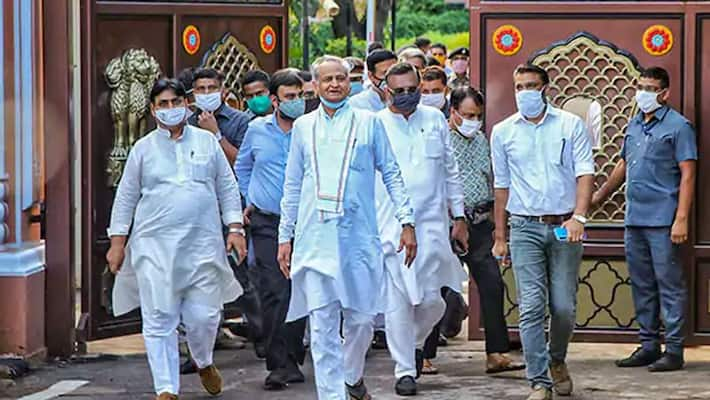 Amid the ongoing political tussle in Rajasthan, CM Ashok Gehlot has seen some development on the issue of calling the Assembly Session. But the issue has not been resolved completely yet. Gehlot held a meeting of Congress MLAs at Fairmont hotel on Thursday. In the meeting he gave instructions to all MLAs to stay in the hotel till 14 August i.e. till the start of the Assembly Session. The MLAs have been given some freedom. They have been told that they could go to the Secretariat to finish their work.
Updates
·       Governor Kalraj Mishra directed the Speaker to call for the Assembly Session. The Assembly will put out a notification for the session to commence on 14 August.
·       BJP state president Satish Poonia has said that the party's strategy for the Assembly Session will be decided in the legislative party meeting and that he is in touch with the MLAs. The Congress has till 14 August to find a way out of this problem.
·       On the question of bringing a no-confidence motion in the house, Poonia said that he would take a decision in view of the situation. On the issue of BSP MLAs, he said that he trusts the court.
Hearing continues in the high court in the case related to BSP MLAs
·       The BSP will petition, opposing Assembly Speaker CP Joshi, against six of its MLAs joining the Congress. The party will demand that the membership of its MLAs be scrapped. The BSP also filed a petition in the high court on Wednesday. BJP MLA Madan Dilawar has also moved the high court again. Both petitions were heard on Wednesday for about an hour.
·       The court asked the BSP, if its MLAs joined the Congress on 16 September 2019, then why is it that the party is challenging the move after so long? The court questioned Dilawar over the merit of his petition. This question arose as Dilawar filed a fresh petition after his application was rejected on Monday.
Assembly Speaker approaches Supreme Court again
 
Speaker CP Joshi on Wednesday filed a fresh petition in the Supreme Court in the case of disqualification of 19 MLAs including Sachin Pilot. He has challenged the order of Rajasthan high court of 24 July. The high court had given an interim order to maintain status quo in the case related to disqualification of MLAs.
Last Updated Jul 30, 2020, 7:52 PM IST