India's first woman navy captain, Radhika Menon, wins top bravery award by IMO
Radhika Menon wins Exceptional Bravery Award by the International Maritime Organisation
She is the first woman to have won this award
Menon is also the first woman to captain a ship in the Indian Navy
She rescued seven fishermen who drifted off the coast of Andhra Pradesh in dangerous and inclement weather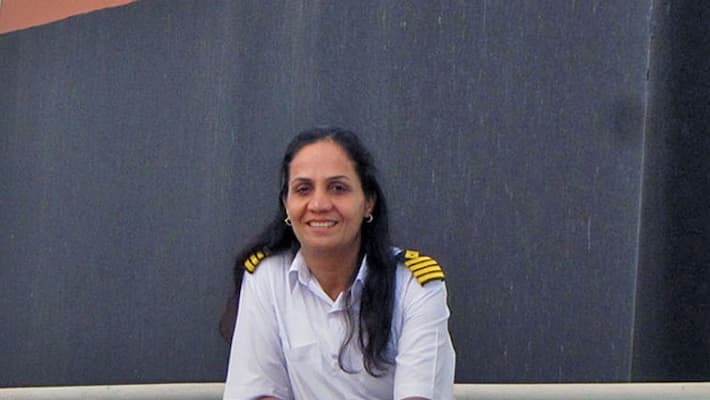 Radhika Menon is the first Indian woman to captain a ship in the Navy. She was awarded recently for her bravery by the International Maritime Organization's (IMO) Award for Exceptional Bravery at Sea in London.
Last year in June, she rescued seven fishermen off the coast of Andhra Pradesh. They were stranded on the sea for a week after their boat lost their engine and anchor.  They would've died, had it not been for the valiant efforts of Radhika Menon and her team.   
Radhika Menon is also the first woman to have won this Exceptional Bravery award besides being the first woman of the Indian Navy, and captains the oil tanker Sampurna Swarajya.
According to a Hindustan Time report, "The boat had lost power and was sinking, in fierce rain, wind speeds of 60 to 70 knots and 27-foot high waves. The fishermen were surviving on ice from cold storage after food and water had been washed away."
Spotted by the second officer on the vessel, Menon ably commanded the rescue mission using the safety gear onboard, which included a ladder, life jackets and buoys.
What made this rescue even spectacular was the fact that they put their lives at risk to save these fishermen in severe inclement weather that included heavy winds, rain, and 25-feet and above waves.  The rescue became a success on the third attempt.  She told BBC, "The sea was very, very turbulent, there was a depression... which was stagnant for two or three days and it had intensified into a deep depression," adding further, "It was a very difficult task but we had to do it because if I didn't do that I was knowing very well that these fishermen never stood a chance of rescue, no survival at all."
Last Updated Mar 31, 2018, 6:37 PM IST