Pranab Mukherjee no more: Tributes pour in for 'Man of all seasons'
Former President Pranab Mukherjee passes away, announced his son Abhijit Mukherjee on August 31.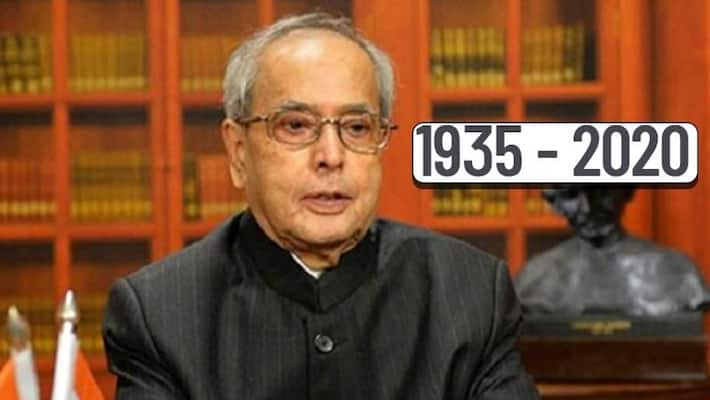 New Delhi: Former president Pranab Mukherjee passed away on Monday. He was 84. The condition of Mukherjee declined on Monday morning and he has suffered a septic shock due to his lung infection, the Army's Research and Referral Hospital said.
The veteran politician was found to be coronavirus positive when he went to Army Hospital for treatment. At the hospital, he underwent surgery for a blood clot in the brain.
With a Heavy Heart , this is to inform you that my father Pranab Mukherjee has just passed away inspite of the best efforts of Doctors of RR Hospital and prayers, duas & prarthanas from people throughout India," Abhijit tweeted.
Pranab Mukherjee's health worsened and was on ventilator support for days.
Prime Minister Narendra Modi said, "India grieves the passing away of Bharat Ratna Shri Pranab Mukherjee. He has left an indelible mark on the development trajectory of our nation."
"A scholar par excellence, a towering statesman, he was admired across the political spectrum and by all sections of society," Modi added.
President Ram Nath Kovind expressed his condolence on the demise and wrote on Twitter, "Sad to hear that former President Shri Pranab Mukherjee is no more. His demise is passing of an era. A colossus in public life, he served Mother India with the spirit of a sage. The nation mourns losing one of its worthiest sons. Condolences to his family, friends & all citizens."
Union Defence minister Rajnath Singh tweeted, "Deeply anguished by the demise of former president of India, Shri Pranab Mukherjee ji. He was widely respected by the people across all sections of society. His demise is a personal loss. He had tremendous knowledge of India's history, diplomacy, public policy and also defence."
Home minister Amit Shah offered his condolences. "Pranab Da's life will always be cherished for his impeccable service and indelible contribution to our motherland. His demise has left a huge void in Indian polity," Shah said in a tweet. "My sincerest condolences are with his family and followers on this irreparable loss. Om Shanti Shanti Shanti," he added.
"With great sadness, the nation receives the news of the unfortunate demise of our former President Shri Pranab Mukherjee. I join the country in paying homage to him," Congress leader Rahul Gandhi said. 
Prime Minister Narendra Modi has repeatedly expressed gratitude for the guidance he got from President Pranab Mukherjee during his first term in the Prime Ministerial office.
Pranab Mukherjee was conferred Padma Vibhushan in 2008 and Bharat Ratna in 2019.
Last Updated Aug 31, 2020, 6:34 PM IST