Police play 'Mamata-Sangeet' along with Tagore's songs to celebrate great poet's birth anniversary
May 8, 2020 is the 159th birth anniversary of world-renowned Bengali poet Rabindranath Tagore. Naturally, the coronavirus lockdown toned down the celebration in Bengal.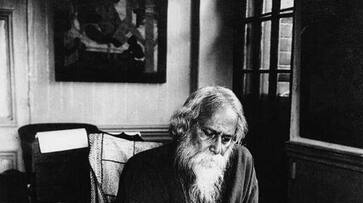 May 8, 2020 marks the 159th birth anniversary of world-renowned Bengali poet Rabindranath Tagore. Usually on this day, 25 Baishakh in the Bengali calendar, millions of fans of the poet celebrate his birth anniversary.
His poems and songs float in the air of Bengal. However, due to lockdown no large gathering of poets-writers-singers-artists was seen this year. Nevertheless, the poet was remembered by all the police stations of the state, where along with the 'Rabindra Sangeet', songs written by chief minister Mamata Banerjee was also played.
No, Mamata Banerjee did not create a 'Mamata-Sangeet' in the style of Rabindra Sangeet. In an effort to raise awareness about the coronavirus, the Bengal chief minister, who is a self-proclaimed poet-artist and much more, has so far written a song, a poem and a screenplay for a short film.
Today, 'Kabi-Pranam' was organized by every police station in West Bengal from 9 am to 11:30 am. Rabindranath's cut-outs were erected in prominent locations and in front of large housing complexes. The Corona-awareness song, written by Mamata Banerjee, was also played.
Gyanwant Singh, ADG (Law and Order) of West Bengal Police sent a directive to police superintendents and the police stations in all the districts, including Kolkata, in this regard. There was a clear directive to play the coronavirus awareness song written by the chief minister with the Rabindra Sangeet. The directive also called for maintaining social distancing during the ceremony.
On the other hand, the state government celebrated Rabindra Jayanti in the Cathedral Road area of Kolkata around 4 pm. Chief minister Mamata Banerjee was also present. However, this event was also a lowkey affair. In attendance was the chief minister, a few members of the Cabinet and administrative officials. No stage was set for the event. Chief Minister Mamata Banerjee laid a wreath at the statue of the great poet.
Last Updated May 8, 2020, 7:15 PM IST