PM Modi shares his 'must visit' destinations in Uttarakhand
Prime Minister Narendra Modi shared his profound experience at Parvati Kund and Jageshwar Temples, describing them as special places that offer a unique blend of natural beauty and spiritual devotion.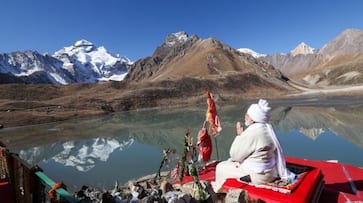 Prime Minister Narendra Modi took to micro-blogging platform X (formerly Twitter) to describe his visit to Parvati Kund and Jageshwar Temples in Uttarakhand. Terming it as a special and spiritually enriching experience, he encouraged others to explore these holy sites, appreciating their natural beauty and divine aura. In a social media post, PM Modi expressed his sentiments, emphasizing the profound charm of these places. In his words, "If someone were to ask me about the one must-visit place in Uttarakhand, I would recommend a visit to Parvati Kund and Jageshwar Temples in the Kumaon region. The natural beauty and divine atmosphere will captivate your senses."
While acknowledging the numerous renowned sites in Uttarakhand, including the sacred destinations of Kedarnath and Badrinath, which he has visited frequently and found memorable, PM Modi expressed the unique significance of his return to Parvati Kund and Jageshwar Temples after several years.
Parvati Kund in Pithoragarh holds a special place in the hearts of devotees, situated at an elevation of approximately 5,338 feet. It is a site of great spiritual importance, believed to be where Lord Shiva and Goddess Parvati meditated, drawing thousands of devotees seeking blessings from this divine couple.
During his visit to 'Devbhoomi,' Uttarakhand, Prime Minister Narendra Modi offered prayers and performed a puja at Parvati Kund in Pithoragarh, seeking blessings from the revered Adi-Kailash. This site is globally renowned for its spiritual significance and its breathtaking natural beauty.
PM Modi also visited Jageshwar Dham in Almora, where he paid his respects at this popular pilgrimage site. At an elevation of around 6200 feet, Jageshwar Dham comprises approximately 224 stone temples.
The visit to these sacred sites was accompanied by Uttarakhand Chief Minister Pushkar Singh Dhami. During this trip, Prime Minister Narendra Modi also inaugurated projects worth over Rs 4,000 crore in Uttarakhand, highlighting India's continued path to success.
Last Updated Oct 14, 2023, 11:26 AM IST