PM Modi collaborates with Grammy-winning singer Falu for special song on benefits of millets - LISTEN
PM Narendra Modi has collaborated with Grammy-winning singer-songwriter Falguni Shah known as 'Falu' and her husband Gaurav Shah, in an attempt to promote the benefits of millets. The song 'Abundance in Millets' was released on Friday across streaming platforms.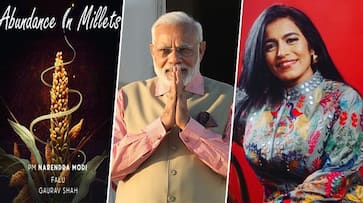 For a special song to promote the advantages of millets and their potential to reduce world hunger, Prime Minister Narendra Modi teamed up with Grammy Award-winning Indian-American musician Falu. The song "Abundance in Millets," performed by Mumbai-born singer-songwriter Falguni Shah and her husband, vocalist Gaurav Shah, was released on streaming platforms on Friday, June 16.
The year 2023 has been designated as the 'International Year of Millets' after a proposal for it was brought forward by India and endorsed by Members of the UN's Food and Agriculture Organization (FAO) Governing Bodies, as well as by the 75th Session of the UN General Assembly.
Also read: Millets key ingredient in lunch hosted by PM Modi for leaders of India-Pacific Islands
Ahead of the song's release, Falu told news agency PTI in an interview, "Prime Minister Modi has written a song with me and my husband Gaurav Shah."
She stated that the song, which was written in both Hindi and English and emphasises the strength of millets, will be made available to everyone.
Listen to Abundance in Millets by Falu and Gaurav Shah, featuring PM Modi here:
"Falu and Gaurav Shah will release the track 'Abundance in Millets' featuring the Honorable Prime Minister Narendra Modi on June 16, 2023 in celebration of the International Year of the Millets. 'Abundance in Millets' was created to raise awareness of the super grain as another potential key to minimising world hunger," said a statement on Falu's website.
Falu, who won the Grammy for Best Children's Album in 2022 for her album A Colourful World, claimed that meeting Modi in New Delhi the year before her Grammy triumph gave her the inspiration to write a song on millets.
She claimed that during their conversation about the ability of music to effect change and elevate humanity, Prime Minister Modi proposed to her that she write a song with a message of eradicating hunger.
Also read: Millet Power: CAPF, NDRF personnel to eat millet-based menu
She remarked that Prime Minister Modi suggested recording a song about millets because music knows no bounds.
According to Falu, PM Modi informed her that India promotes millets as a supergrain with exceptional nutritional and health benefits. She said that the PM accepted when she "naively" asked him to cowrite the song with her. "We have collaborated on the song, it's a single and it's coming out on June 16," with a worldwide release on every streaming platform, she said.
Falu announced that the song would be made available in Hindi and English as well as other regional tongues to ensure a wide audience.
Falu admitted that she was initially anxious about creating the song with the prime minister, but that everything came together really naturally.
"It's one thing to write for him and it's one thing to write with him. In the middle of the song, you will hear the speech that he has written and narrated in his own voice," she told PTI.
Falu stated that she is "humbled" and "honoured" to have worked with Modi on the millets song. "It is a lifetime opportunity for any artist", the Grammy-winning artist said.
The New York-based musician emphasised that the song's goals are to promote millets, aid farmers in increasing crop production, and work to eradicate hunger throughout the world.
Also read: India's millets mission will benefit 2.5 crore small, marginal farmers: PM Modi
"What better to have a song and music tied along with the message that we can actually solve hunger problems in the world. If we can supply the world with millets, which is a very easy way of farming and growing, this grain can really help end the biggest problem in the world which is hunger and also uplift farmers, local and smaller farms," Falu told PTI in her interview.
There are numerous examples of millets being consumed during the Indus Valley civilization, making millets one of the first crops to be domesticated in India.
Millets are currently grown in more than 130 countries and are a staple diet for more than 500 million people in Asia and Africa.
Last Updated Jun 16, 2023, 1:03 PM IST