Pictures of TMC leader cutting national flag customized cake on birthday invites heavy criticism from BJP
TMC leader Shehnaz Kadari allegedly celebrated her birthday by cutting a National Flag customized cake. As soon as the picture of this incident went viral, a storm of criticism spread across the district. BJP activists strongly condemned the incident.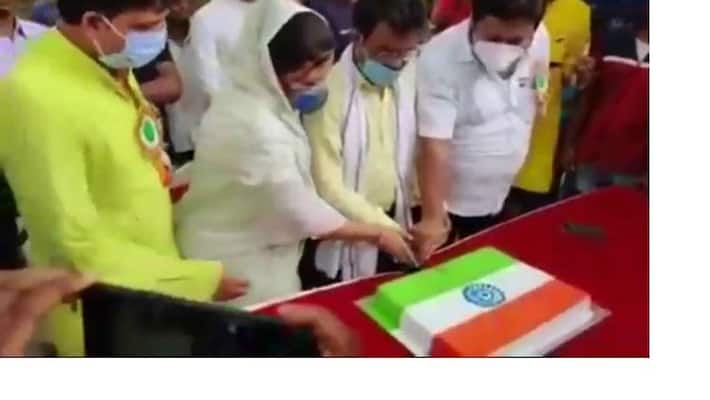 A disturbing picture of Independence Day was found in Malda. Trinamool leaders were seen making cakes in imitation of the national flag. Leaders were eating the cake in public with great joy. As soon as the picture of that incident went viral, a storm of criticism arose across the district.
Top Trinamool leaders of the district were accused of insulting the national flag. This shocking incident happened in Ratua. The BJP has raised a storm of condemnation over the issue.
According to reports, the incident took place on Independence Day (August 15). When the national flag is hoisted on August 15, people respect the sovereignty and independence of the country. The Trinamool leader of Ratua celebrated her birthday on Independence Day with a cake in imitation of the national flag.
Krishna Das, Jai Hind Bahini District President, was seen cutting the cake in public on the birthday of local Trinamool leader Shahnaz Qadri. Top Trinamool leader Sheikh Yasin was also present at the event.
As soon as this picture came out, there was a storm of criticism. Trinamool leader Babla Sarkar said, "Those who did this have done a lot of injustice."
The Malda BJP leader has strongly condemned the incident. District BJP co-president Ajay Gangopadhyay said, "Insulting the national flag, such an indecent act can never be accepted. Everyone present should be put in jail."
However, Trinamool leaders Krishna Das, Sheikh Yasin and Shahnaz Qadri, who was present on the occasion did not respond.
 
Last Updated Aug 22, 2020, 10:59 AM IST