Paliyekkar spirit case: Kerala excise dept seizes wrong truck, hand in glove with smugglers?
According to sources, the excise department of Kerala helped smugglers by letting their truck carrying spirits get away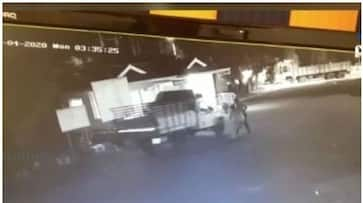 Palakkad: The excise department of Kerala claimed that they seized the light truck in which the smugglers fled the scene, smashing the boom barrier of the toll booth with respect to the Paliyekkar spirit case.
But the claims of the excise team collapsed when allegations were raised stating that the light truck produced by the officials was not the same as the one that had fled the scene earlier.
The actual truck was fitted with a carrier, whereas the one seized was not having the carrier on. Also, the vehicle seen as fleeing the scene did have a number written on the sides, and the seized truck had the number wiped out.
Another issue was that the truck had no visible scratches which must have been there due to the impact with the boom barrier while trying to escape the scene.
It is alleged that the excise officials were hand in glove with the smugglers and helped in letting the truck carrying the spirits get away. Reports suggest that the new story of Hans being smuggled is a cover-up to avoid the goof up in the spirit smuggling case.
Last Updated May 7, 2020, 7:39 PM IST